Potato Casserole Revised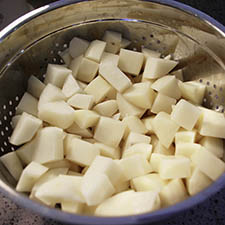 A healthy version of a classic favorite.
Ingredients
1 bag Southern style hash browns
¼ cup chopped onion
1 can reduced sodium, 98% fat free cream of chicken soup
8 ounces fat free sour cream
1 bag (8 ounces) reduced fat shredded cheddar cheese
2 tablespoons hydrogenated fat-free margarine, melted
Topping:
½ box cornflakes, crushed
2 tablespoons canola oil
Directions
Preheat oven to 350 degrees. Combine first six ingredients and spread evenly in a 9-by-13 inch pan. To make topping: mix cornflakes and oil thoroughly. Spread topping on hash brown mixture. Bake for 45 minutes.
> Back to Healthy Recipes