Post-Chalkboard Classrooms in Charlotte
How schools balance technology and set guidelines in a digital world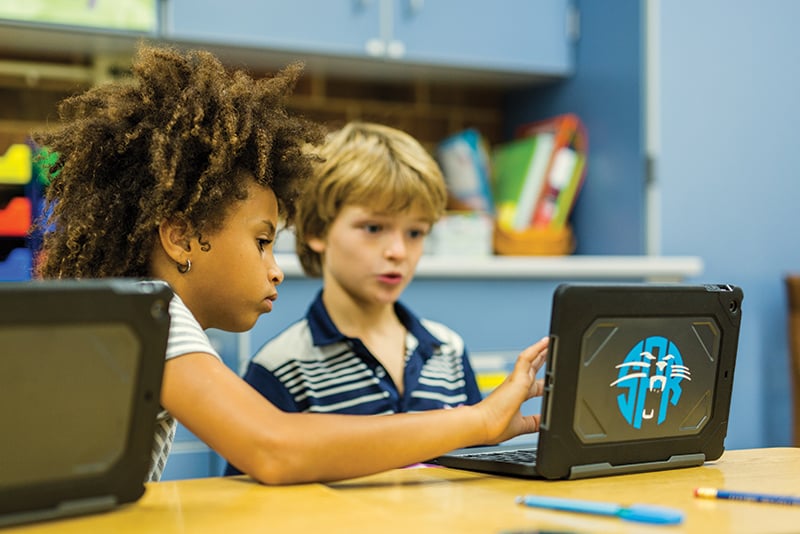 Let's face it, classrooms today don't resemble the classrooms of our childhoods. Gone is the chalkboard as the main communication tool. Now students have technology at their fingertips instead of one or two computers in the back of the classroom. While tablets, laptops and the like can certainly benefit and support education, they can also serve as a distraction and deterrent. So how do educators navigate this ever-evolving tech world?
Integrating technology and education in a safe and responsible way is a priority for schools. Many schools have adopted a 1:1 technology program — especially in the upper grades — where each student has their own device.
---
Balancing Technology and Curriculum Needs
"Charlotte Latin School is in the seventh year of its 1:1 iPad program, which now serves students in grades three through 12," says Alan Becker, educational technology department head at Charlotte Latin School. "In order to blend classroom technology into a traditional learning environment, Charlotte Latin relies on its experienced faculty, key technology personnel, and a robust digital citizenship program. The faculty are supported by Latin's educational technologists, specialists who help to integrate iPads and other technology into classrooms in ways that enhance student learning without making technology the driver of the curriculum."
Charlotte Country Day School provides one device per student, but they do not consider themselves a 1:1 technology school. "At Charlotte Country Day, technology is used when it is the right tool for the task within an individual discipline or curriculum," says Jody Specker, Charlotte Country Day School's lower school librarian and chair of the digital citizenship (DigCit) committee. "Teachers use technology to deliver content or to aid in instruction as a way to enhance student learning. Students use an array of technologies to read about, research, and examine topics and concepts in every subject area. They are often given the choice of how and when to use technology to record, share or apply what they have learned."
J.T. Williams Montessori, a Charlotte-Mecklenburg Schools middle and high school, follows a similar right-tool-for-the-task method. "Our philosophy is more of a holistic approach, focused on the whole child. We don't just focus on the academic development, but also the social and emotional development," says Sophia Hazlehurst, J.T. Williams' principal. "In some ways, this age of technology has detached us of human contact with other people, whether student-to-student, student-to-teacher or adult-to-adult. We aren't anti-technology, but when we use it in the classroom, we try to be intentional in the way we use it and make sure it's purposeful."
J.T. Williams is about to take part in Charlotte-Mecklenburg Schools' 1:1 technology initiative. Students previously had access to Chromebooks in their classrooms as needed. As a result of this new initiative where each student will have their own laptop at all times, the school is carefully considering what new guidelines need to be put into place.
"I don't really see this as being a complete shift in what we do on a day-to-day basis," Hazlehurst says. "Our core values are commitment, community, initiative, compassion and responsibility. Those values guide and drive what we do here every day, so as we integrate technology and develop guidelines for appropriate classroom use, we make decisions that represent those values."
Defining and Teaching Digital Citizenship
With classroom use of technology comes the need to discuss and define digital citizenship.
"Quite simply, I view digital citizenship as an extension of everyday citizenship expectations. Any 'digital' policy or guidance is based on expectations for how we expect our students to behave in face-to-face encounters," says Joe Hernick, Charlotte County Day School's director of educational technology.
Charlotte Country Day School's students learn about digital citizenship through Common Sense Media's curriculum that discusses Internet safety, copyright, privacy, security, cyberbullying and more.
Charlotte Latin School teaches digital citizenship lessons starting in the third grade and progressing through upper school, with age-appropriate topics discussed at each level.
"At Charlotte Latin School, we have crafted our own responsible use policy which guides all students to use technology for educational purposes," Becker says. "This policy empowers students to manage their technology use effectively, while maintaining a healthy campus community in which face-to-face interaction is still essential."
J.T. Williams follows Charlotte-Mecklenburg Schools' guidelines that are in place for all schools within the corporation. Students complete an online course on digital citizenship.
Creating Groups and Defining Guidelines
For support, education and guidance, each school has created a group specific to their community's needs. At J.T. Williams, it's the media and technology advisory council that consists of staff and parents. The council is creating guidelines specific to the school and its Montessori approach, especially with the integration of the 1:1 program.
Charlotte Latin School began the Family Technology Task Force. "The goal of the Family Technology Task Force was to strengthen Charlotte Latin School's parent-school partnership by identifying resources for parents and by organizing a series of parent education events," Becker says.
Charlotte Country Day School is starting the fifth year of its DigCit Committee. "We have had parents, students, faculty, staff, and administrators involved in understanding the changing digital landscape to guide our school and shape policy and curriculum. The committee meets approximately three times a year to discuss current trends and research, sharing experiences from all three divisions," Hernick says. "Having an active DigCit Committee keeps our community current and engaged in the positive aspects of technology, allows us to stay aware of potential trends or tech that might negatively impact our students, and provides a platform for us to keep our citizenship curriculum current."
In an ever-changing tech world, it can feel overwhelming to try to stay ahead or even keep up with the latest trends and advancements, though each of these schools prioritize finding ways for their students to benefit from appropriate technology use. In the end, as Hazlehurst points out, it's all about perspective.
"Technology has a specific place in our day-to-day lives. It's not the only thing or the big thing. We are here to help students figure out their place in the world and we do that by giving them the resources that will help them on their journey."
Meagan Church a freelance writer. She lives in Charlotte with her high school sweetheart, three children and a plethora of pets. Connect with her on Instagram, Facebook and Twitter @mchurchwriter, or visit her website meaganchurch.com.