POP! Goes "I Love You"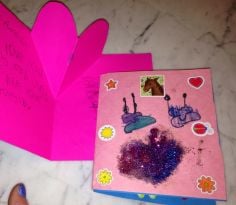 Amelia LOVES Valentine's Day. Seriously loves every sugar-coated, glitter-dripping bit of it. So with late-January snow days to occupy, we've already made valentine cookies, purchased valentines for her classmates, and set about making cards for teachers, grandparents, the dog, and anybody else we think of.
This year we tried a pop-up card I found on Pinterest, to great success. It really is (almost) as easy as it sounds in the tutorial.
Each card requires two sheets of paper, and the tutorial suggests that one be cardstock. We made a lot of cards, using every possible combination of cardstock, construction and copy paper. All worked just fine.
We folded two sheets together and decided which would be the inside with the pop-out heart, and which would be the outside "jacket." I drew the cut lines on each folded sheet, and Amelia and her friends easily cut out the straight lines.
Folding the heart in was a little bit trickier, and definitely required some adult help. I found that envisioning – and folding – a diagonal line from the right angle you've already cut to the center fold is helpful. Once folded, you can easily see where the rounded parts of the valentine need to be cut, and the pop-out worked perfectly.
Use a glue stick to glue the pop-out page to the outer jacket, and your card is ready for decorating with stickers, glitter, sequins, doilies, and anything else you can think of. And of course, lots of pop-up action!
Happy Valentine's Day!
Want more Mess? Visit Melanie's blog, or drop by her Etsy store, Made by Mommy!