Pool Noodle Fun – No Pool Needed!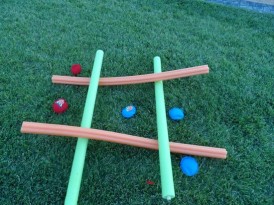 Want to create summer fun for kids on the cheap? Get to the dollar store and stock up on pool noodles. The first idea calls for 4 noodles and 6 bean bags (or anything else you want to use as a marker.) All you have to do is lay the noodles on the ground in the shape of a tic tac toe board and let the kids use the markers to play.
Another game to make out of pool noodles is ring toss. You can use either chopsticks or sections of 1/4″ dowels cut 12′ long. Pound them halfway into the ground and slide the pool noodle on top so it stands upright. Make rings by duct taping the ends of more noodles together. You can space the posts in any pattern and make up all kinds of scoring rules to keep things interesting.
While you are gathering the dowels or chopsticks for the ring toss game, get some extras to turn the noodles into wickets. Pound a pair of sticks 30 to 40 inches apart and slip each end of a noodle over the posts to form the wicket. You can make the wickets into an obstacle course to kick balls through or use it as a giant croquet course. Or better yet, leave it up to the kids to figure out their own creative way to play.
While at the dollar store, also pick up a package of balloons from the party section. Blow up a bunch of them and give each child a noodle that has been cut in half to use as a bat. Toss the balloons in the air and see how long the the kids can keep them from hitting the ground.
The last idea uses noodles for trampoline safety. Often the padded spring covers on trampolines don't last very long, so simply cut the noodles in the length of the springs to keep them covered. You can either unhook the spring and slide it into the center of the noodle section, or slice the length of the noodle to snap over the spring while it is still connected. The first way is more work, but if you think your kids might be tempted to pull the sliced sections off you are safer keeping them whole.
Do you have any other creative ideas for pool noodle fun? Please share with other readers in the comments section below.
Barbara Green is the owner of Sensibly Chic Designs for Life and the host of Ask the Design Diva radio show. She believes you CAN have it all: kids, pets, and a beautiful home. Her showroom is located at
830 Lamar Avenue in Charlotte and is open by appointment only. Mention Charlotte Parent when you call
704-608-9424 to schedule your consultation and receive your first 30 minutes free!