Playhouse Inspiration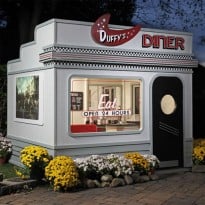 Every parent wants their child to be an original thinker and a success in school. New research suggests that one of the keys to developing these traits in a child is encouraging creative and imaginative play. Especially since schools are so test-result driven, it falls on your shoulders to provide ample opportunity for creative play. You may think you are helping your child by providing educational dvds or computer games, but giving them the space for unstructured inventive play is more effective. This diner playhouse is just one fun option by Posh Tots but there are many other styles available.
Here is a playhouse with a purpose. In Newport Beach, CA they hold a fundraiser called "Project Playhouse" where local builders and businesses design playhouses that gets auctioned off with all of the proceeds going towards helping the homeless. This Beach House Playhouse is perfect for that specific geographical location, but could be fun anywhere for beach-themed fantasy play.
This homeowner's tree grew too tall and dangerous for the nearby roofline and it was deemed the tree needed to go. However, it was brilliant to leave such a substantial tree trunk behind. Now it has a second life as a sturdy base for a playhouse that looks like a birdhouse.
Another great way to develop imagination is by reading. The Hobbit is a hugely popular book series and now parents can share their love for the stories with their children. This Hobbit Hole playhouse is made by Wooden Wonders and can create your own corner of middle earth!
Our final playhouse is the work of very indulgent grandparents. They had the room and felt nothing was too much for their grandkids, so this is what they created. It features multiple levels, extensive decking, a sand play area, and a giant slide. There is plenty to keep the grandkids busy for hours!
What would be your dream playhouse for your kids? Do you already have one? Please share you ideas or suggestions in the comments section below!