Playground Review: Fourth Ward Neighborhood Park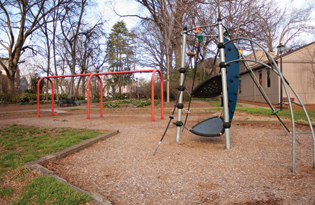 Photo by Breanna Dobbins
Playground Review
Fourth Ward Neighborhood Park
301 N. Poplar Street
Play at Fourth Ward Park
If you're exploring uptown adventure with the family, and need a reprieve from the big buildings, concrete sidewalks and business crowd, stroll down to Fourth Ward Park.
About two blocks from Tryon Street, the park has a big open grassy area where kids can freely run and play, or it's a great area to spread a blanket for a sunny picnic. The playscape is situated on the Pine Street side of the park. It's equipped with a playground unit geared to ages 5-12 that has a small climbing wall, ropes, and curved, arched ladder, with mulch ground covering. There also are swings, including baby swings, but no slides. The decorative fountain at the corner of the Popular Street park entrance is sure to intrigue the little ones.
The Scoop
• Bathrooms: No
• Baby swings: Yes
• Shade: Yes
• Parking: Yes, on street
• Stroller-friendly: Yes
• Picnic shelters: No
Read last month's Playground Review: Freedom Park