Playground Review: Chantilly Park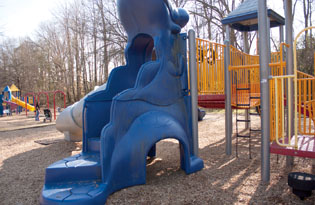 Chantilly Park, located in the Chantilly neighborhood not far from uptown Charlotte, offers two play sets and some wide-open space for running or kicking a ball around. The toddler and preschool age groups enjoy the big blue dinosaur that they can climb in and out of, as well as two great slides, a swinging bridge and a tunnel. There are also swings and a disc-golf green. And if your child loves trains, he or she might just get to see a big train pass by as the playground is situated just below a set of railroad tracks. There's very little shade, so bring a hat and sunscreen. Location: Chantilly neighborhood, 222 Wyanoke Ave.
The Scoop
• Bathrooms: No.
• Shade: No.
• Parking: On the neighborhood street with a short walk to the playground.
• Stroller-friendly: Yes.
• Picnic shelters: One picnic table and charcoal grill.