Play With Your Food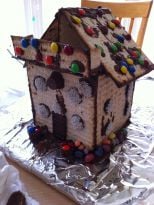 Typically, Passover food is nothing kids get excited about. Brisket and matzo just don't compare with the seasonally concurrent colorful eggs, chocolate bunnies and Easter baskets. But this year, our Seder was a contender.
We had a Matzo Candy Castle!
I'm not sure why I never thought of this before, but we've found a new holiday tradition. And a use for the inevitable box of last year's matzo that hides in the back of the pantry. And it's perfect for Amelia and my mother, who visits every Passover and loves both cooking and crafts, to do together.
The first step is to build the house. I found a few online recipes, most of them built around a cardboard frame. Not ours. Instead, we used melted chocolate to seal together the matzo walls, and peanut butter cups to reinforce the corners. Any sturdy candy would have worked, but my Girl loves peanut butter cups. We built a simple house structure, but next year we'll probably get fancier. It's pretty simple to do, the key is to use a lot of chocolate, and let it dry completely. If you are in a hurry, you could put the house in the refrigerator to cool and harden the chocolate more quickly.
Next comes the fun part. Decorating with candy – two things Amelia loves, together at last! In this case we avoided cookies and tried to use candy that is somewhat acceptable for Passover, but anything would work – and the supermarket is full of colorful candy and dried fruit.
Again, I melted chocolate in the microwave and Amelia and my mother worked together to decorate the house by dipping candy in melted chocolate and stick it on. They built candy furniture for the deck, planted a jellybean garden, and installed Hershey bar doors and nonpareil windows.  A mansion straight out of Candyland.
The construction crew spent nearly an hour together negotiating, building, designing, and tasting (probably more than I know!).  And most importantly, they were spending time together doing something they both love to do. The result? A Passover dessert with a story!
A few tips:
This doesn't have to be a Passover project. You can build a house with graham crackers, cookies or of course gingerbread any time of year.
Remember melted chocolate is HOT, and burns easily. You can melt it in a double boiler or in the microwave, but check and stir it frequently to melt it evenly and avoid burning it.  Once it's melted, it stays melted (and delicious) a fairly long time, so there's no hurry – make a little at a time and let it cool for a few minutes before giving it to your child.
Build the house on a sturdy base that you won't need again until the house is gone. We used a cutting board, but a baking sheet or even a piece of heavy cardboard would work.
Want more Mess? Visit Melanie's blog, or drop by her Etsy store, Made by Mommy!