Planning Strategies for Back to School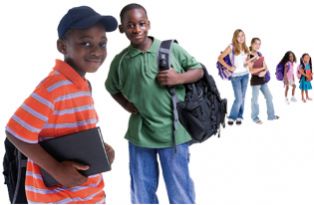 Everyone always talks about getting kids ready to go back to school. Now is the time to think about areas that presented continuous problems last year. Consider your answers to these questions:
Was homework a constant battle in your home?
Was every morning a picture of total pandemonium in getting the children off to school?
Did extracurricular activities cause academic or family problems?
Were before- or after-school arrangements satisfactory?
Was money for lunch, supplies and school trips handled satisfactorily for everyone?
Did TV viewing interfere with school work or family life?
Were your children reluctant to talk about what was happening at school?
No matter how prepared children and parents are for the new school year, it is often a stressful time with children anxious about the new transitions. Try to clear your own schedule so it will be easier to help your children. Postpone business trips, volunteer meetings and extra projects as much as possible. It's also helpful to freeze a few easy dinners so meal preparation does not add to household tension at this time.
Q Where we live, it has now become the norm that children must know how to read simple stories when they enter kindergarten. Is this expectation a reasonable one?
— Questioning
A Reading is much like walking and talking. Every child will have his or her own timetable. Of course, early instruction will result in some learning to read. Unfortunately, there are a great number of children who aren't ready to take this step. Many countries delay reading instruction until children are 7.
Expecting all entering kindergartners to read is not reasonable and sets children up for an early failure in school.
Q With cutbacks occurring in the amount of dollars spent on education in our state, my third grader is going to be in a combined class with second graders. He was specially selected for this class. It will only have 24 students while the regular third grade will have 30 students. I'm wondering about how well he'll be able to achieve in this class.
— Divided Class
A The research seems to show that children achieve at about the same levels in combined classes as in single-grade classes. This may be because the children, like your son, are often selected for these classes because of their ability to work independently, motivate themselves, behave appropriately and interact agreeably with others.
Some benefits to combined classes may include a greater development of social skills, more cooperation between classmates and enhanced leadership skills for the older students. Younger students can benefit from having older students to model.
Parents are often concerned about the amount of individual time their children will receive from the teacher. This is usually the same as in a single-grade class as it is based primarily on class size. The success of a combined class depends greatly on the ability of individual teachers to handle this type of class. In a well-thought out program involving the careful selection of students and teachers, combined classes can work well. This is not to say the picture is completely rosy. When teachers teach in a back-and-forth fashion, each level may not receive sufficient instructional time to learn a subject. If children are not selected carefully, the classes may have students with extremely different academic needs and quite disruptive behavior.
Q What are the main illnesses causing children to miss school? How can they be prevented?
— Health Conscious
A Large groups of children are breeding grounds for the organisms that cause illnesses. After the first few years of school, children's immunity improves. Top illnesses that keep kids home from school are colds, stomach flu, ear infections, pink eye and sore throats. The single best way to prevent illnesses is to have children wash their hands frequently.