Plan a Tour of the Duke Lemur Center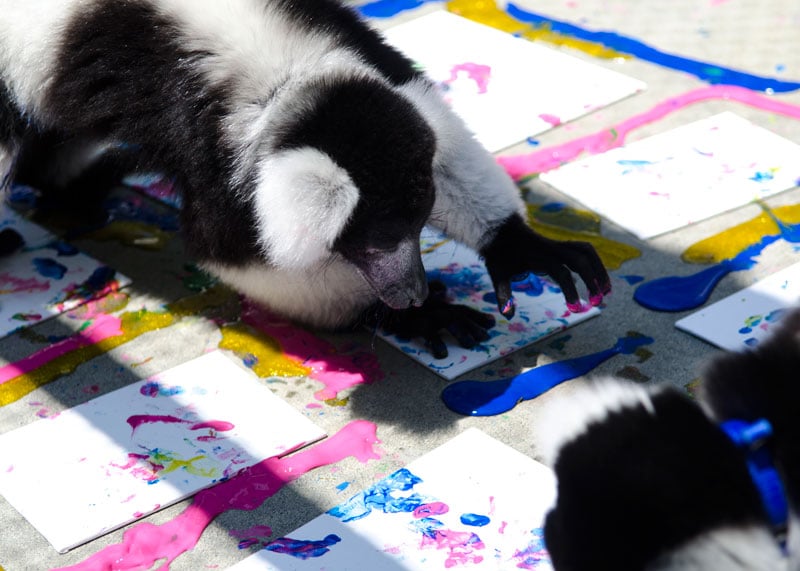 North Carolina couldn't possibly have anything in common with the wilds of Madagascar, right? Think again. Nestled in the woods of Durham on the Duke University campus lives the largest population of lemurs outside of wild Madagascar, an island off the southeast coast of Africa. They reside in the Duke Lemur Center, which just turned 50 years old, marking a half-century of research and conservation efforts.
Lemurs are primates like monkeys, apes and humans. They don't naturally live anywhere other than Madagascar, the world's fourth largest island. Madagascar has been isolated for "tens of millions of years," says Charles Welch, conservation coordinator at the Duke Lemur Center.
"The plants and animals there have evolved in a way that's completely unique so that over 80 percent of the plant and animal species in Madagascar are endemic, or unique, to Madagascar," he says. "They don't exist anywhere else in the world. And that includes, of course, the lemurs."
In 1996, research from Anne Yoder, now director of the Duke Lemur Center, championed the theory that lemurs originated from a single common ancestor that reached Madagascar from Africa and evolved in isolation from the rest of the primate family tree. Over the course of tens of millions of years, lemurs developed into 70-plus unique species currently in existence, according to Susan Fitzgerald, a staff member at the Duke Lemur Center.
Then, a few thousand years ago, humans arrived on the island. Their presence threatened the lemur population's health, primarily due to detrimental farming practices that have destroyed 85-90 percent of the island's forests, the lemurs' home, Welch says. Of the 111 species of lemurs, 24 are classified on the International Union for Conservation of Nature list as "critically endangered," but 94 percent of all lemur species are considered "threatened with extinction," which makes them the most endangered mammal group on the planet, according to the IUCN.
The Duke Lemur Center works to help both the lemur and human populations in Madagascar, educating local communities, promoting sustainable farming and agriculture, and even supporting family planning to curb population growth, Welch says. The main goal of all of these efforts is to protect the island's forests.
You don't have to travel to Madagascar to show some lemur love. The Duke Lemur Center offers tours and other opportunities with proceeds from these activities going toward supporting the lemurs' care.
Lemurs Live! is a general tour that introduces guests to an average of 10 species at the center. The 75-minute tour is offered throughout the year each day of the week except Tuesdays. However, when the temperature dips below 41 degrees, the lemurs are housed indoors in heated environments to prevent illness and cold-related health issues, similar to zoos.
New in 2017, the Little Lemurs tour is specifically designed for children ages 8 and younger with guides primarily answering children's questions during the 50-minute tour. Little Lemurs is Thursdays-Sundays at 10 a.m. Admission to the center is $12 for adults, $9 for ages 3 and older, and free for ages 2 and younger. All tours are by appointment only and there are no self-guided tours.
Another activity is painting with the lemurs. A guide in the enclosure provides the lemur with painting materials and guests choose the paint colors. Painting With Lemurs is available for a group of up to four guests with a flat fee of $260, and all participants in the group must be 10 or older. You can also "adopt" a specific lemur by donating to its care expenses.
"This is an opportunity for us … to get young people to think about really serious problems, and how, if we don't change the way we do things, in the next 10 to 20 years, we're looking at no more elephants, no more rhinos. Tigers and orangutans, gone," Welch says. "There are so many species that are on the brink, and Madagascar provides us a unique avenue to make that point."
For more information about tours, workshops and events at the Duke Lemur Center, visit lemur.duke.edu/visit/tours or call 919-401-7240.
Laura Lacy is a freelance writer in Chapel Hill.