Pizza with Tomatoes, Oregano and Mozzarella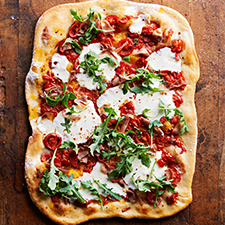 This is pizza perfection: a thin, crisp crust topped with the very best of basic ingredients—ripe tomatoes, fresh mozzarella, garlic, oregano, and prosciutto. Out of the oven, the heat from the pizza brings out the peppery flavor of the arugula without wilting it.
Prep 20 minutes
Bake 15 minutes
Oven 475°F
Makes 4 servings
INGREDIENTS:
2 cups cherry tomatoes
1 tablespoon olive oil
1 sprig fresh oregano
1 clove garlic, sliced
All-purpose flour
1 1-pound ball fresh pizza dough, at room temperature
8 ounces fresh mozzarella cheese, sliced 1/4 inch thick
1/4 teaspoon sea salt
1 cup baby arugula (optional)
2 ounces very thinly sliced prosciutto, cut into strips (optional)
INSTRUCTIONS:
1. Place a 15×10×1-inch baking pan on the lowest rack of the oven. Preheat oven to 475°F.
2. For sauce, in a food processor combine cherry tomatoes, 1 tablespoon olive oil, the oregano, and garlic. Process just until tomatoes are coarsely chopped (do not puree). Set sauce aside.
3. Lightly sprinkle flour on an 18-inch-long piece of parchment paper. On the paper roll pizza dough into a 14×8-inch rectangle. Spread the sauce over the dough, leaving a 2-inch border around edges.
4. Carefully remove preheated pan from the oven. Place pizza (still on parchment) into the pan and return to the lowest rack of the oven. Bake for 10 minutes. Top with cheese. Bake about 5 minutes more or until pizza is crisp on the bottom. Sprinkle with sea salt. If desired, top with baby arugula and prosciutto.
Each serving 487 cal, 24 g fat, 40 mg chol, 684 mg sodium, 48 g carb, 3 g fiber, 17 g pro.
Reprinted with permission from the publisher, Houghton Mifflin Harcourt, from Fresh by the editors at Better Homes and Gardens . Photographs by Better Homes and Gardens, Jason Donnelly, Andy Lyons, and Kritsada Panichgul. Copyright 2013