Pinterest Pressure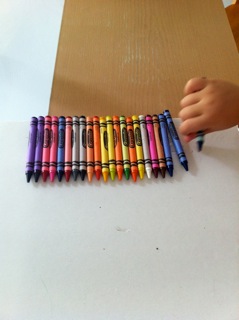 I had to do it. Variations of this melted crayon masterpiece have been circulating on Pinterest for weeks, and the cumulative effect has been the best subliminal marketing campaign ever. What should we do this afternoon? Melt crayons, of course. I thought you'd never ask.
The supplies are simple – crayons, a large canvas or posterboard, glue, and a hairdryer. Since all the stores are in their late summer school-supplies-sale glory, we had plenty of bargain-priced crayons to spare for this. We found a leftover piece of white foam core instead of a canvas, grabbed the hairdryer and we were good to go.
First Amelia glued the crayons, in no particular order, to the top edge of the board. We're both pretty impatient so we didn't wait for the glue to dry, figuring a hairdryer would be involved in the next step anyway.
Once the crayons were lined up, I realized that for the wax to drip, we'd need the help of gravity.  Just in time, we leaned the board against a tabletop easel. Amelia held the hairdryer, pointed, aned voila…within a few seconds the crayons got shiny and started to drip.
And slip. Oops, we should have let the glue dry.
And then something unexpected happened: the melted liquid crayon started to splatter in all directions – onto Amelia, me, and the floor. Thankfully, the uncarpeted floor. Once they dried, we were able to scrape the splatters from the floor with our fingernails.
So, it was a little messy. And we were sloppy. Yet the result was beautiful and almost immediate. Just imagine what we'll do next time with a little more patience and preparation!
We'll definitely try this again, but now we know:
• It probably isn't necessary to use new crayons.
• This could be a noble end to all those broken ones. The melted colors blend in interesting ways.  I may encourage Amelia to line up the crayons in a purposeful pattern, just to see what happens.
• Let the glue dry!  I'm tempted to try a hot glue gun to speed this up, but I'm afraid the hairdryer might re-melt that. Use the hairdryer on its highest heat, but lowest blower setting to avoid splatters. A hair diffuser (that attachment we curly-haired girls buy and then abandon in the back of a closet) might be even better.
• And in case it still splatters, wear smocks and put a dropcloth on the floor!
Thousands of Pinners can't be wrong.  You know you want to try this too!
Want more mess? Visit Melanie's blog!