Personalized Tacks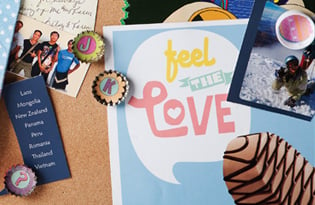 You Need:
-bottle tops (plastic or metal)
-old magazines, wrapping paper, or photos
-round item that fits inside a bottle cap (coin, charm, or token)
-scissors
-glue
-flat-topped thumbtacks

How to Do it:



1. Find a Circular object, such as a coin, key-chain charm, or game token, that fits inside your caps. Use it to trace circles onto old magazine pages, wrapping paper, or photos. Cut out the circles.
2. Glue the circles to the inside of your caps. You can even cut out individual letters from magazines or catalogs and use them to spell out names, words, or clever sayings inside your caps. When the glue on the inside of the lids has dried, flip each cap over and glue the top of a thumbtack or two to the center of each cap.
3. Allow glue to dry for at least 30 mintues, then put your personalized tacks to work, posting photos, messages, and more to your quirky corkboard.