Perked-Up Playdates: 6 Free Spots to Have a Mommy Meetup in Charlotte
Check out these free places to meet up with friends, big and little.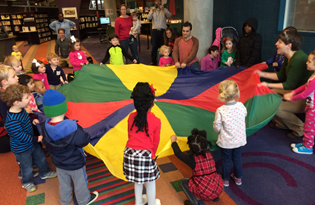 For the most part, play dates are great at your house or theirs. But if you want to break out of the house or avoid clean up after the play date, check out these free places to meet up with friends, big and little.
---
1. ImaginOn
This uptown facility hosts a Family Storytime Monday through Friday, as well as bilingual and preschooler story times, and ongoing special events throughout the year. Find a large collection of picture and children's books on the first floor in the Spangler Library. There is also a special area designated for babies and toddlers that includes hands-on activities. After story time, head over to 7th Street Market for lunch or a snack. They have coffee for mom and dad, sandwiches and pizza for kids, delicious baked goods, and more. 300 E. Seventh St.. imaginon.org.
---
2. Freedom Park
The playground caters to preschoolers and big kids, and the NFL Play 60 Kidzone is a great way for kids to get some exercise (ahem, burn some energy) with its American Ninja Warriors-style obstacle course and interactive 40-yard dash that times kids as they race to the end. On the other side of the park is a concrete path that loops the seven-acre pond, great for moms and babies to stroll, or bigger kids who want to scoot, bike or skate.ᅠ You can also connect to the Little Sugar Creek Greenway which leads to Park Road Shopping Center in one direction, and Metropolitan on the other side. 1900 East Blvd. charmeck.org.
---
3. Jetton Parkᅠ
Bring the little ones sand buckets and shovels, pack a picnic and spend a day at the lake at this Mecklenburg County Park. The 104-acre park has a lakeside beach (no swimming allowed), a 1.3-mile bike trail, 1.5-mile paved trail, picnic decks, a formal garden, tennis courts and a playground. 19000 Jetton Road, Cornelius. charmeck.org.
---
4. Reedy Creek Park and Nature Preserve
Get a breath of fresh air exploring the more than 10 miles of hiking trails at Reedy Creek Park and Nature Preserve. Kids love running across the swinging bridge that connects the two tree house at the natural play area. There are also large xylophones for kids to make some music, a sand area for digging, and a nature center with kid-friendly programs and live, native animals, including turtles and snakes. You can also rent fishing poles at no cost and fish at Dragonfly Pond. ᅠ2900 Rocky River Road. charmeck.org.ᅠ

---
5. SouthPark Mall Play Area
This pirate-esque play area at SouthPark Mall includes ocean elements for children to climb and play on, including a pirate ship slide, cannon, large shark, crab, octopus, shell, and an anchor and chain on sand. There are also two interactive elements, including a jellyfish light-up game and 3D sculpted relief entrance rules from Mr. Manners the Pirate. The nearly 2,000 square foot play area is located outdoors in the West Plaza between Dick's Sporting Goods and the food court. 4400 Sharon Road. simon.com.
---
6. Squirrel Lake Park
This park, located in Matthews, feels cozy. The playground includes a scavenger hunt for kiddos, and adjacent picnic shelters and bathrooms. The park also connects to the Four Mile Greenway if you feel like walking and talking with a mom friend, while strolling the babies or letting the tots run.ᅠ 1631 Pleasant Plains Road, Matthews. matthewsfun.org.