PARENTS TO KNOW: Drs. Joya and Drew Lyons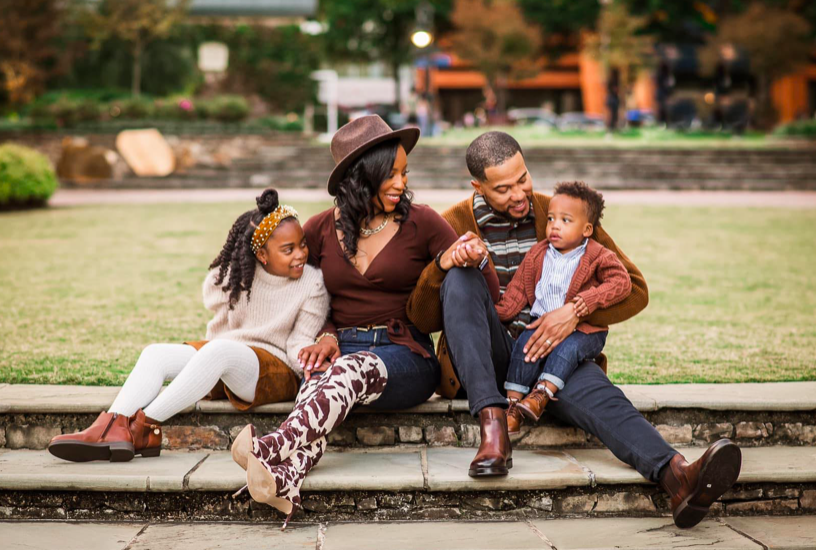 Drs. Joya and Drew Lyons are spouses and owners of Smile Savvy and Cosmetic Dentistry, the state's only cosmetic dentistry practice owned by a Black couple. The Lyonses are also parents to 7-year-old Brielle and 2-year-old Trace, who was born two months premature. We caught up with the busy pair to talk about juggling homeschool while running their practice, why pregnancy loss and a premature baby changed their perspective on parenting, and how they continue to prioritize their relationship after 10 years of marriage.
What's the hardest part about being partners in business and in life?
Drew: Trying to separate the two. We decided to not even try.
Joya: It makes it easier for us to have that understanding. When you're married and work together, you can't really separate the two.
How do you divide parenting responsibilities at home?
Drew: A few years ago we had more set roles, but this is a 24/7 job, so it's really whose less tired right now (laughs).
Joya: I do a lot of the typical mom duties. They come to me when they want snacks. If Mommy is exhausted, my answer is, 'ask your dad,' and vice versa. We go day by day with everything.
What's been the biggest challenge with pandemic parenting?
Joya: They came to work with us a lot in the beginning. Our daughter would be on Zoom, and I'd be trying to help her with schoolwork in between patients. Our son went back to daycare in June, but before that he came to the office or I stayed home with him.
How did the experience of having a premature son change your approach to parenting?
Joya: He was born two months premature. He weighed 2lbs, 15 oz. I had six losses before that and one stillborn, so it really taught me how resilient I am and how resilient our marriage is. I was out for eight months because Trace was in the hospital. My husband had to hold down the practice. It taught me to cherish every moment with my children now because it's such a blessing to have them in the first place.
Drew: I got to admire my wife's strength. We don't have an office manager—my wife typically handles that stuff—so trying to do that for almost a year was heavy and hard.
How is his health today?
Joya: You would never know. He's chunky, running around the house, telling his sister "no" every five seconds (laughs).
Tell me about your kids.
Joya: My daughter was the perfect child, slept through the night, and follows directions well, so when we found out we were having a boy, I hoped his demeanor would be similar. I think God answered my prayers because he's so similar to her. I can't even take credit for that—that was my prayers right there.
What's your favorite way to spend a kid-free night in Charlotte?
Joya: We love a good restaurant and a nice hotel. We've done staycations at The Grand Bohemian, The Ritz…The Ivy is probably our favorite. We spend so much time together, but at work we're in work mode, so we definitely still date. It's nice to feel like husband and wife.
What's your favorite adult beverage?
Joya: I try the cosmo everywhere I go; I have to see who has the best one. I love Link & Pin's cosmo.
Drew: I always get an Old Fashioned.
What's your favorite way to spend an unscheduled day with your kids in Charlotte?
Joya: We love to bike rides and throw a Frisbee…anything outdoor-related. We go to Link & Pin almost every weekend. They know us on a first name basis (laughs).
What's your biggest parenting fail to date?
Joya: Remembering that today is water day or crazy hair day at school. You don't want to be that kid who forgot to show up with what they're supposed to have.
Drew: I'm an only child, so these family dynamics are different to me. Our daughter is so kind and soft. My upbringing was much stricter, so I'm having to learn a different communication style.
What's the best parenting advice you ever got?
Drew: It's so cliché, but so true. The days are long, but the years are short. People like to call them the terrible twos, but this is actually one of the cutest ages, seeing them putting sentences together. I'm just trying to find the good in every stage.
What's one thing you hope your kids learn from watching you run your practice?
Drew: I hope they learn how to serve. At the core of business ownership and leadership is how to serve. A lot of people think being a boss is having it your way, but it's not. I hope they get to see us go all in—not just to reap the reward, but learn how to make life better for someone else.
You just celebrated your 10th wedding anniversary. How do you continue to prioritize your marriage?
Drew: Our kids are blessed to have grandparents on both sides. It truly does take a community to raise them. Our kids branch out more when they go to someone else's home, try new foods, see different parenting styles.
Joya: It gives us time to work on our marriage. It's good to have that time away from them, too.