Parents to Know: Andrew and Alyssa Wilen
The couple behind Chef Alyssa's Kitchen recently became parents to two children under age two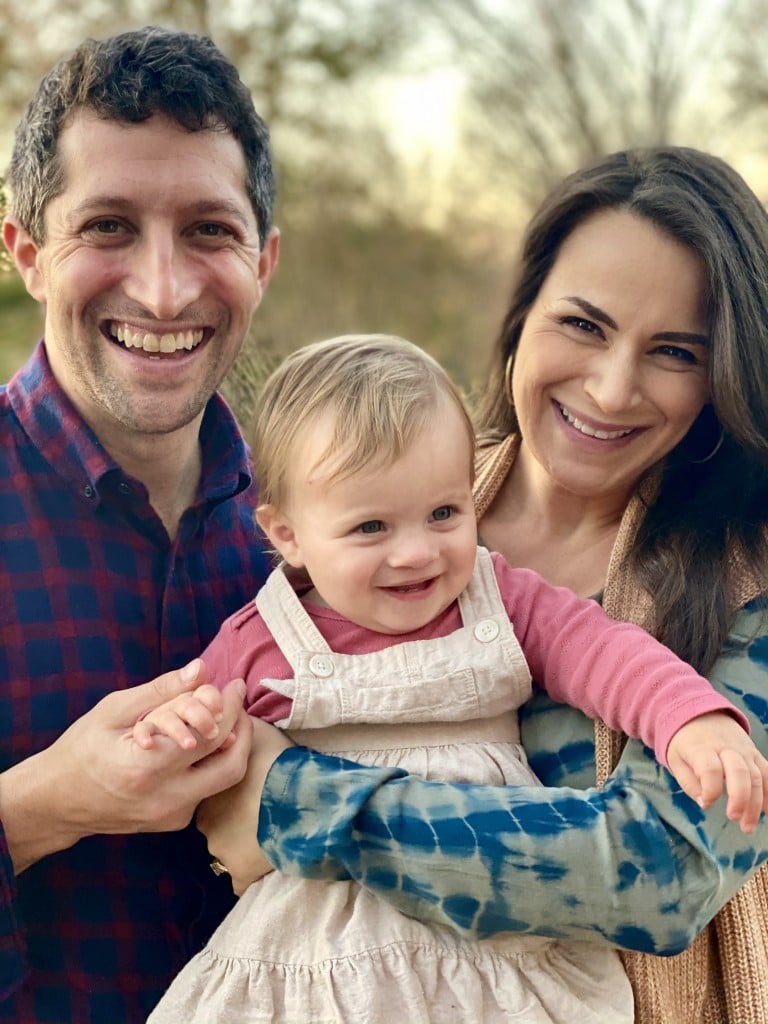 Andrew and Alyssa Wilen are the team behind Chef Alyssa's Kitchen, the Lower South End spot where you can take a cooking class, pick up a prepared family meal, or come for Saturday brunch. The Wilens, married for five years, are parents to 17-month-old daughter Aubrey and welcomed a baby boy named Arlo this month. We caught up with the busy couple to chat about pandemic parenting, picky eaters, and what they cook at home.—Taylor Bowler
What's the hardest part about running a business and juggling a toddler?
Alyssa: Neither can take a back seat. Planning ahead and juggling both is challenging and there are always things to do. When you're with a toddler sometimes your hands are tied and the most important thing to do is be there for them. Being quick on your feet when things change.
What's been your favorite part about parenting a toddler?
Andrew: Seeing her exuberance and energy and watching her discovering her world. Seeing something in a new way because she is seeing it for the first time. I love how those moments when she picks up on something you've taught her like where to eat her snack or that we wash our hands after going outside.
What's your daughter's favorite meal that you make?
Andrew: She's all about peanut butter sandwiches or cheese quesadillas. I'm still waiting for the foodie part to develop.
How do you include her in the kitchen?
Alyssa: Aubrey loves watching what I'm doing so we either hold her close or put her in her learning tower. I like to tell her about what I'm making.
Can you develop a child's palate, or is a picky eater always going to be a picky eater?
Alyssa: You can definitely mold it. It more so has to do with your attitude about new foods than it does about the taste. We don't have a kid's menu—I don't really believe in them. I can separate things or put things on the side if kids request it. But everything is fresh and local, and brunch is pretty kid-friendly anyway.
What are three foods you always have on hand at home?
Andrew: We always have a jar of our mustard open—we put it on salmon or chicken. We always have broccoli in the fridge and a sauce in the freezer.
What's your favorite weeknight meal to make at home?
Andrew: Rice bowls with roasted veggies, a protein and a good sauce.
What's the hardest part about being pregnant during the pandemic?
Alyssa: It's already so easy to get out of breath but with double mask wearing for long hours, it's even harder to breath. Going to appointments by myself is tough because I really want Andrew there.
What are you most looking forward to about having a boy?
Andrew: You might think my answer would be to play sports with him. But pretty much everything I want to do with him I also want to do and play with Aubrey. I'm excited to have a boy and a girl and how they'll interact. I also can't wait to coach their teams like my dad coached mine.
What's your favorite adult beverage?
Andrew: Bourbon cocktails
What's your most common pregnancy craving?
Alyssa: Peppermint candies and fried chicken sandwiches
What's your favorite restaurant in Charlotte, other than your own?
Both: The Stanley
What's your favorite way to spend an unscheduled day with your daughter in Charlotte?
Alyssa: Go to the park and the get creative with a DIY style project.
What's your favorite way to spend a kid-free night in Charlotte?
Andrew: Because we work several nights a week, kid-free nights don't exist (particularly in the pandemic). But if we are lucky enough to get a kid-free morning on a weekend, it means enjoying coffee while it's still fully hot and making breakfast together.
What's your biggest parenting fail to date?
Alyssa: On the very first night Aubrey slept through the night, we somehow forgot to put a diaper on her. We were very proud, and also had a not-so-great reward to clean up.
What's the best parenting advice you ever got?
Andrew: Not a specific anecdote, but it's incredibly comforting that in those moments when you feel you've failed or did something wrong, to learn from other parents that it's normal and everything will be fine.
What do you have planned at Chef Alyssa's Kitchen while you're on leave?
Andrew: We have a bunch of guest chefs coming in to teach classes—we'll have one a week for the next 6 to 8 weeks: Lewis Donald, Ashley Boyd, Bruce Moffett, and others. And of course we'll still have our family table meals for pick-up. They're geared toward families and working parents. When we're on leave, we're literally gonna order from ourselves (laughs).