Parent to Know: Shawn Flynn
The one-time reporter recently stepped into a new role at Holy Angels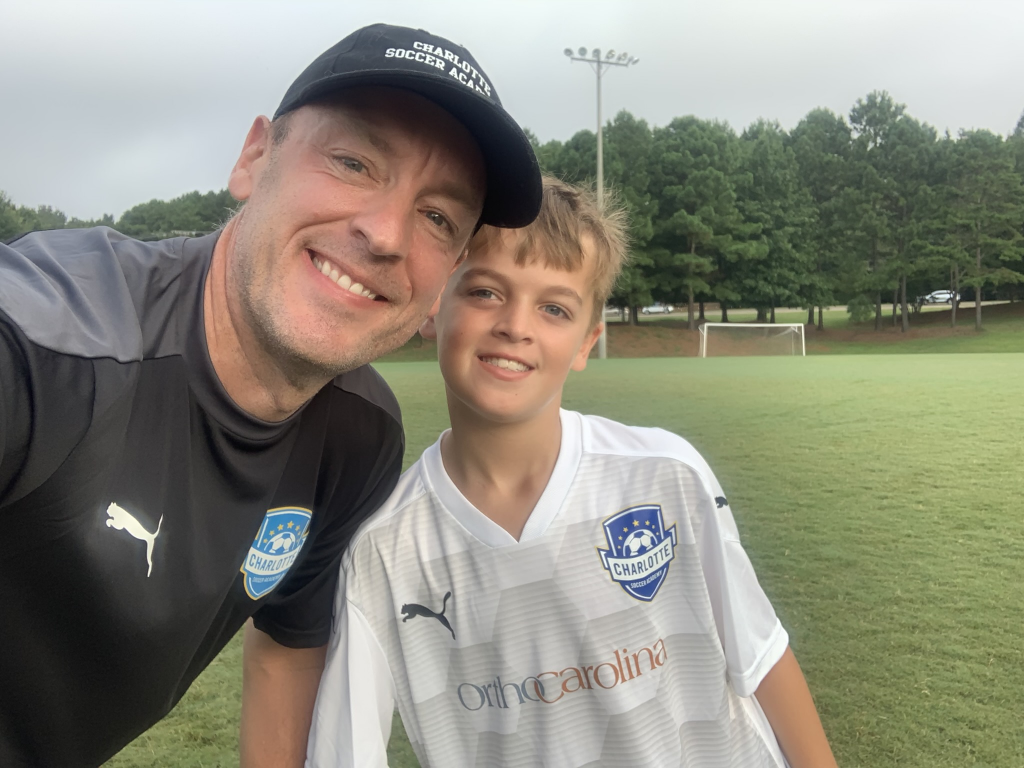 You probably recognize him from his post at Spectrum News, where he was a reporter for 16 years. Today Shawn Flynn is a writer and consultant who recently stepped into a role at Holy Angels, a Belmont-based nonprofit that provides specialized care to adults and children with developmental disabilities. He's also father to Aidan, 12, and Liam, 9, who beat an aggressive pediatric cancer in 2019. We caught up with Flynn to talk about bouncing back, parenting through a pandemic, and looking for special moments every day.

First thing's first. How's Liam? Fantastic. He's almost 22 months post-treatment. The 18-month mark was when we could take a deep breath, so we're just moving forward now. He rebounded so well, and he's back playing soccer.
What's been the hardest part about parenting during a pandemic? The uncertainty is the hardest part. When we got Liam's initial diagnosis, the not knowing was hands down the hardest period. If you go back to March when nobody knew how you could spread it or catch this thing, it was really hard. I remember sanitizing my credit card picking up groceries.
How have you handled it with a high-risk child at home? Once we got a better understanding of the situation, we created a bubble on our street because social interaction is still so important for children. Liam missed 96 days of first grade because of his treatment and 57 days of second grade because of the pandemic. It's a delicate balance between isolating and letting them live their life, but Liam's immune system bounced back extraordinarily strong, and he really needed to be around his friends.
How else have you kept them occupied during the pandemic? Aidan has learned video production. He started a YouTube channel after he put together a video of us building a treehouse in our backyard.
Why was this the right time for you to go back to work fulltime? I took a leave of absence from Spectrum when Liam got sick. I had to make sure he made a full recovery before I went back to work. I had to wait until the boys could go back to school to join Holy Angels, so the time lined up perfectly.
What's been your favorite part about being a parent? I just love the bond you're able to create with your child. I tell my boys all the time that I remember when they were infants and they cried in the middle of the night. I'd get up, all exhausted, get a bottle and feed them. They'd fall asleep, and instead of putting them back in their crib, I'd sit and hold them for a while. I just love creating these great little people.
What's your favorite restaurant in Charlotte? Soul Gastrolounge—I love their pork belly tacos.
What's your guiltiest pleasure? Whenever we get fast food, the bag will NEVER make it to them without a French fry (or three) missing. I call it the "Daddy Tax." The boys ask why don't I get my own fries. I tell them I don't want to turn into a "Fatty Daddy."
What's your favorite way to spend a night without your kids in Charlotte? Just hanging out with my wife Stephanie. When Liam was in treatment, we had a 20-minute walking date to go pick up food, and it was the first time we'd been alone in ages. It's so important to just focus on each other.
What's your biggest parenting fail to date? I really like to be involved, and sometimes I get too involved and need to take a step back. I'm learning when my kids need me there and when they prefer I not be there.
What's the best parenting advice you ever got? When they're infants, they're the longest days, but the fastest years. There are still days when it's a struggle, but I look for those moments when I can look back and say, "That was special."
What's been your biggest takeaway from 2020? For last two years, we've had a lot of bad stuff going on, but I find the good moments, the silver linings, those moments where you can laugh. Even during treatment, Liam and I laughed a lot. Look around, because there's so much good around us, too.
What is one thing you hope your children learn from you and your career path? I want them to do whatever it is they enjoy doing because money truly doesn't buy you happiness. I loved being a TV news reporter; I'll never regret that line of work. I'm looking forward to my next mission because I want to be even more involved in helping other people. I need to feel like I'm making an impact. That's what I want for the kids when they grow up.
The Tough Stuff:
Chocolate or cheese? Chocolate. I don't like cheese.
Coffee or tea? Coffee.
Beer or wine? Beer.
Ice cream or hot chocolate? Ice cream.
Hot dog or taco? Taco.
Reality or fiction? Reality.
Comedy or drama? Comedy.
More sleep or more free time? Free time.
Tik Tok or Minecraft? Minecraft.
Netflix or Hulu? Netflix.
Facebook or Instagram? Facebook. That aged me right there.