Parent to Know: Roxy Te
Society Social's founder and creative director is mom to 3-year-old Austen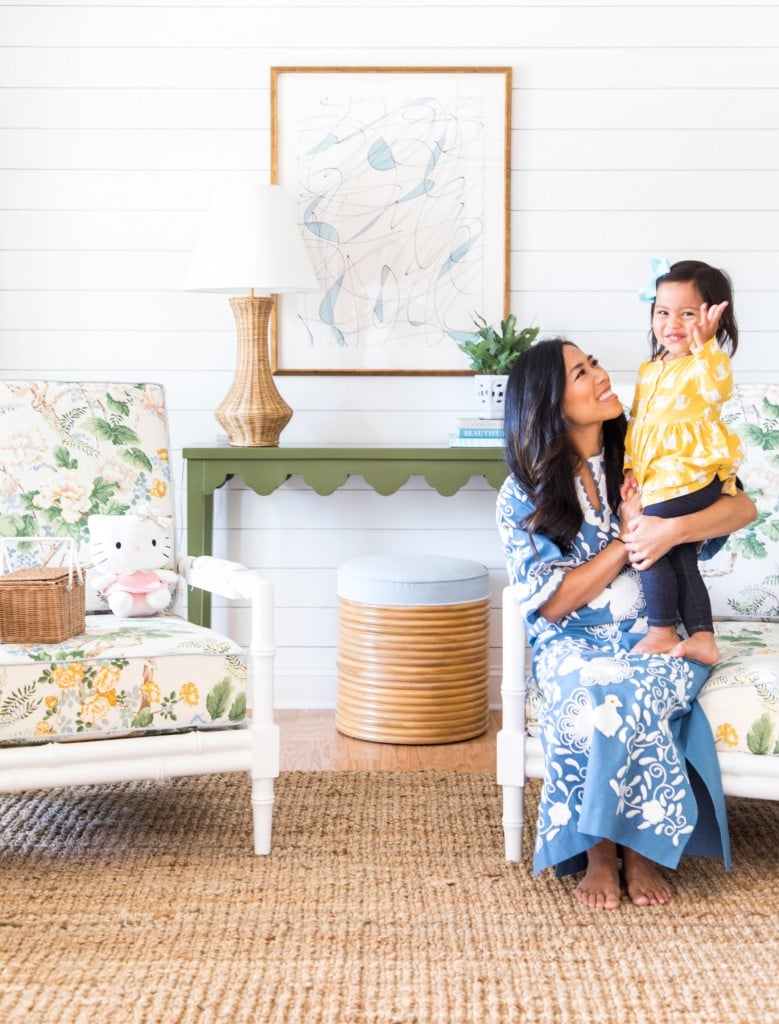 If you don't already follow her furniture brand Society Social on instagram, you need to. Founder and creative director Roxy Te's collection of sorbet-colored accent chairs, grasscloth dressers, rattan bookcases, and Scalamandre pillows will make you want to add pops of color to every room in your house. We caught up with the mom and entrepreneur to talk about building her brand, bingeing on Bridgerton, and raising her 3-year-old daughter, Austen, in a world that's normalized women in positions of leadership.
What's the hardest part about running a business and juggling a toddler? Balance has been really hard. A year ago last March, we made the decision to shut down our flagship store in Charlotte. At the same time we pulled Austen out of daycare, so we had to tag team parent. I'd be at my desk at 4 a.m., work until 2 p.m., then we'd switch and (my husband) would work 'til midnight. So there was no time to rest.
What's been your favorite part about parenting a toddler? She's starting to form complete sentences, so I'm having conversations with her. I sometimes sit her down and interview her just to hear what she has to say about certain things.
What does Austen think of Society Social? She calls it "Austen's store." I always give her a bag and let her walk around and pick out one thing. She usually gravitates toward the candy. She also loves the Bobbie Coffee Table, an upholstered ottoman with a wicker base. It's so feminine and beautiful. So yeah, gummies and that ottoman.
What's the most practical thing you did when designing her nursery? We lived in a 700-square-foot one-bedroom in NYC when Austen was born, so it was important to have pieces that had multiple functions and smart storage. We actually had a credenza that held diapers.
What's your favorite adult beverage? Casamigos—I'm a huge tequila fan. It has less sugar than wine, so no hangover (laughs). There's nothing worse than waking up early with a toddler when you're hungover.
What's your favorite restaurant in Charlotte? Good Food on Montford. I love the small, creative plates.
What's your favorite way to spend an unscheduled day with your daughter in Charlotte? When we moved back here from New York, we got a golf cart and we cruise around the neighborhood and go feed the ducks. We bring Cheerios and they're on us—Austen and I laugh so hard. After we feed the "duck ducks" we go up to the clubhouse in our neighborhood. I'll get her a Shirley Temple and I'll get an adult beverage.
What's your favorite way to spend a kid-free night in Charlotte? We love to eat and drink. Having lived in New York for 10 years, that was a big part of our recreational activities. So that's what we like to do—date night at a great new restaurant.
What's your biggest parenting fail to date? I need to work on cleaning up my language a little bit now that she's talking. She did repeat after me the other day (laughs).
What's the best parenting advice you ever got? I repeat this to my friends who are becoming parents: When something is difficult, annoying, or stressful—especially in the early days when you're not sleeping—I remember everything is a phase. If they're screaming and won't go to sleep, just remember it won't last forever.
What's one thing you hope your daughter learns from watching you build your brand? Working in the male dominated furniture industry, in a small town in the South, as a woman business owner, minority, and a person of color, I'm very aware that I have to work twice as hard to prove myself. Only 1% of women-owned businesses make it past the million dollar mark. That's a sad stat. As a woman-owned and woman-led team, we are all very aware we have the unique opportunity to change what the face of success looks like and to empower our community and generations to come. I love that marketing campaign by Meredith that promotes gender equality through the slogan "See Her." If my daughter can see her, she will believe she can be her. There aren't a lot of people who look like her where we live, in management positions no less, so it's important to me to be that person to her.
THE TOUGH STUFF:
Chocolate or cheese? Cheese.
Coffee or tea? Coffee.
Beer or wine? Wine.
The Home Edit or Tidying Up with Marie Kondo? A mix. I'm not a minimalist. I like lots of picture frames and décor. I do appreciate a level of organization.
Baby Shark or Baby Einstein? Baby Shark.
Reality or fiction? Fiction inspired by reality, like Bridgerton or The Crown.
Comedy or drama? Dramedy.
More sleep or more free time? I'll take whatever I can get at this point.
Daniel Tiger or Daniel Stowe Botanical Garden? Daniel Stowe Botanical Garden.
Instagram or Pintrest? Instagram for personal, but for business they're equally important.