PARENT TO KNOW: Carrie Tucker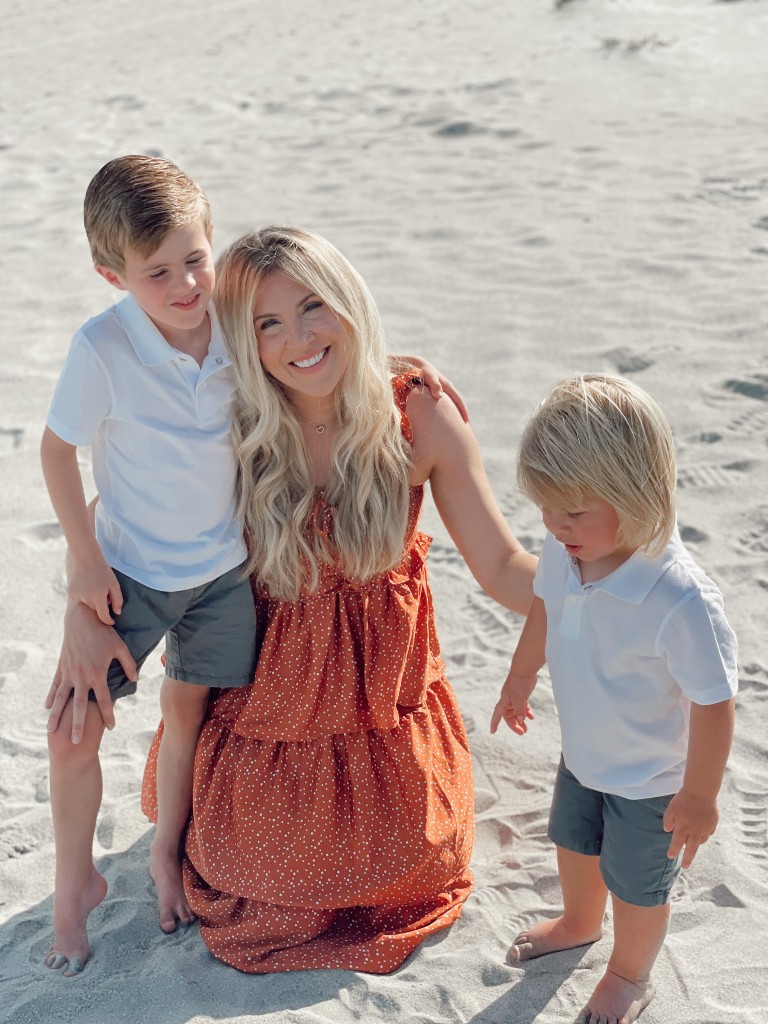 Carrie Tucker is a family nurse practitioner and mom of two boys, ages 5 and 2. When the pandemic hit, she and her mom wanted a fun project to do at home, so they started making cosmetic bags in the garage of her Mountain Island Lake house. Eighteen months later, it's evolved into The Bloc Collective, a line of cosmetic bags they design and manufacture in Charlotte. Their products are sold through their website, and they were recently picked up by Maisonette World, a curated online shop that sells children's luxury brands online. Tucker also donates a portion of her proceeds to North Carolina's foster system and gives one toiletry bag to a foster child for every bag they sell. We caught up with the 36-year-old mom and entrepreneur to talk about bags, boys, and the best parenting advice she ever got.
How would you describe The Bloc Collective to someone unfamiliar? We manufacture and design our own bags, and we have a local seamstress who helps us, so we keep it local. We also have seasonal retail and buy new merchandise quarterly. The retail we have is fashion brands people recognize. It's all e-commerce, and we were just picked up by Maisonette World.
What inspired you to launch this project? I wanted to start a company that could give moms a cute way to carry all their stuff to express their personality. It's not a purse everyone sees—this goes inside your purse. We wanted something creative to do, but also have a platform to give back.
Why are foster youth of North Carolina so close to your heart? It was something I always thought about, but after I had my boys, I realized how every moment shapes them and how critical those early years are. I have anxiety and depression and struggled with it since I was very little, and knowing what that feels like and thinking these kids don't have a support system breaks my heart. Then they turn 18, and they're just on their own. I couldn't have survived without my support system. Having kids made me see how hard it is to be a parent, but it's so much harder to be a child without a parent.
What will you remember most about working and parenting during the pandemic? I've learned to always cut people slack. My hope is it makes us aware that you never know what is going on with someone, like their struggles with parenthood, and to lend a hand when you can. During Covid we were all helping others more, maybe not physically, but emotional support had a huge impact on me moving forward.
What's your favorite way to spend an unscheduled day with your kids in Charlotte? We love going out on Mountain Island Lake. We have a sand area where the kids play. We just love not going anywhere, not putting on fancy close, riding on the boat, snacking, and just letting the kids run with nowhere to go.
What's your favorite way to spend a kid-free night in Charlotte? We get sushi takeout from Yamarazu and go on the boat, just the two of us. We park out in the middle of the lake and eat sushi and just hang out and listen to music.
What's your favorite adult beverage? Wine.
What's your biggest parenting fail to date? During Covid, when I was at my wit's end, I'd say to my older son, 'Why are you being (fill in the blank)?' I don't ever want my child to label who they are. Yes you may make messes, but you are not messy. (That's a Brene Brown thing).
What's the best parenting advice you ever got? It's from my mom. She told me it's always better to give them an iPad or let them watch a show when they're upset than for you to lose your temper. It's not worth it to withhold an activity if it's means you'll snap at them. We need to limit how much we lash out at our kids.
What's one thing you hope your kids learn from watching you as a nurse and a business owner? Resilience. I hope they know that no matter what you were born with or what skills you have or may lack, if you grind and outwork other people, you can do anything.
THE TOUGH STUFF:
Chocolate or cheese? Cheese
Coffee or tea? Coffee
Beer or wine? Wine
Hot dog or taco? Taco
Reality or fiction? Reality
Comedy or drama? Comedy
Baby Shark or Baby Einstein? Baby Einstein
More sleep or more free time? Free time
Daniel Tiger or Daniel Stowe Botanical Garden? Daniel Tiger
Facebook or Instagram? Instagram