Parent Survival Kits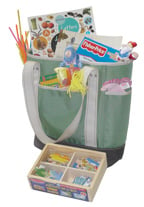 School is back in session, and the routine starts again – carpool lines, after-school trips to and from practice, and sit-down dinners at the family's favorite eatery (to keep quality time together at the top of the priority list!).
But all parents know kids and boredom don't mix. What can be done to minimize the little ones' whining, whether they're in the back seat of the car, at big brother's soccer game or waiting in line at the restaurant?
We've put together three sample parent survival kits that you can create to keep boredom at bay. Many of these items – like measuring cups for digging in the dirt – can be found around the house, or at the local dollar store, and are perfect for keeping younger siblings occupied while the routine rolls on … in the car, at the field and out on the town. And certainly $20-$25 is an easy price to pay for engaged and quiet kids. Be sure items remain unique to each kit, so everything is new and doesn't get mingled with the same-old stuff in the toy box.
Road Trip Survival Kit
Toss these items in an easy-to-stow box, and put an end to car seat squirming by encouraging your child's creativity, testing kids' knowledge of facts and giving them moveable gel clings for imaginative play on car windows.
• Plastic Box
• Word Search Puzzle Book
• Finger Puppets
• Crayola Washable Window Markers
• Brainquest Cards
• Action Figures
• Pack of Dinosaurs
• Gel Clings
Sibling's Soccer Game Survival Kit
Grab an old backpack and gather these items to keep young children busy while watching from the sidelines. A bug kit and a set of plastic measuring cups or toy shovel gives them the tools to observe critters up close and dig in the dirt like little archeologists.
• Backpack
• Deck of Cards
• Matchbox Cars
• Plastic Shovel
• Jungle Friends Bubbles Clip-On
• Bug Kit
• Yoyo
• Jump Rope
• Plastic Measuring Cups
Restaurant Survival Kit
After rounding up your family, driving to a restaurant, finding a table and ordering, the wait for the food begins. What to do with restless kids? Some restaurants supply a crayon and a sheet of drawing paper, but creative kids might want a coloring book and a whole box of crayons to keep drawing. Fill a canvas tote with Silly Putty (great for creative molding), pipe cleaners (perfect for quick-and-easy creations) and other crafty items.
• Canvas Tote
• Coloring Book
• Crayons
• Silly Putty
• Pipe Cleaners
• Construction Paper
• Small Puzzles
• Pocket Etch A Sketch
• EyeLike Stickers Book
• Miniature Dolls and Plastic Animals