Pappardelle with Spring Vegetables and Hazelnuts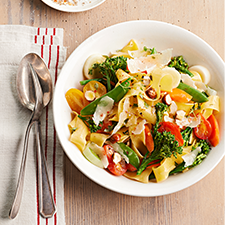 Pappardelle—which means "gulp down" in Italian—are long, elegant ribbons of pasta that intertwine with sugar snap peas, broccoli, carrots, grape tomatoes, and a white browned-butter sauce in this colorful meatless dish. 
Prep 20 minutes
Cook 20 minutes
Makes 4 to 6 (1 1/2- to 2 1/4-cup) servings
1 8.8-ounce package dried pappardelle pasta
1 cup sliced leeks
2 cups broccoli florets
1 cup bias-sliced carrots
(2 medium) 2 cups sugar snap pea pods, trimmed
1 cup halved grape tomatoes
1/4 cup butter
2 cloves garlic, minced
1/2 cup dry white wine
1 to 2 teaspoons snipped fresh thyme
1/4 cup coarsely chopped hazelnuts, toasted
1/4 teaspoon salt
1/8 teaspoon ground black pepper
1/4 cup finely shredded Parmigiano-Reggiano or Parmesan cheese
1. In a large pot cook pasta according to package directions; drain. Return pasta to pot. Cover and set aside.
2. Place a steamer basket in a large saucepan. Add water to just below the bottom of the basket. Bring water to boiling. Add leeks. Cover and steam for 2 minutes. Add broccoli and carrots; cover and steam for 3 minutes or until vegetables are crisp-tender. Add pea pods. Cover and steam for 1 minute or just until crisp-tender. Add vegetables to pasta in pot. Stir in tomatoes. Cover to keep warm.
3. Meanwhile, for sauce, in a medium saucepan combine butter and garlic. Cook and stir over medium heat until butter is melted. Cook about 5 minutes more or until butter is lightly browned, stirring occasionally. Remove from heat. Stir in wine and thyme. Return to heat; heat through.
4. Add the sauce and nuts to pasta and vegetables Toss to mix. Season with salt and pepper. Top with cheese.
Each serving 489 cal, 19 g fat, 34 mg chol, 381 mg sodium, 63 g carb, 7 g fiber, 15 g pro.