Papier Mache Holiday Ornament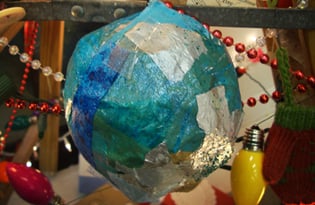 Looking for a papier mache project that doesn't require blowing up a balloon?  Here's a super simple yet classic holiday ornament craft that you'll want to mass produce and give to all of your friends and family!  And best of all, it costs practically nothing and can be made with materials you likely already have in your house!
These stunning holiday ornaments become a unique work of art when complete, and will surely become a cherished family heirloom.  We guarantee you'll want to make at least a dozen, so clear off the table and roll up your sleeves!  This is one project that is totally worth the mess!
You Need:
To make the papier mache ball:
• Newspaper or scrap paper
• Aluminum foilTwine or string
• FlourWater
• Large mixing bowl
• Whisk
There are almost an infinite number of different ways to decorate your ornaments based on your preference.  Here are some suggestions, and a list of what you'll need for each:
1. Decoupage:  Use a soft paint brush and school glue or Mod Podge to layer tissue paper or scrap pieces of patterned paper and fabric.
2. Paint:  Use tempera or acrylic paint
3. Paint brush
4. Ribbon scraps
5. Glitter
How to Do It:
1. Scrunch a piece of newspaper or scrap paper up until it forms a ball.  It is not necessary to scrunch it tightly – the tighter you scrunch it the heavier the ball will be.
2. Wrap a piece of aluminum foil around the ball.  At this point you can mold it to make it as smooth as possible, but don't worry if there are a few bumps.  These add character and interest to your ornament! The aluminum foil creates a non-porous surface so the papier mache will dry faster and not just turn your paper ball into a soggy mess.
3. To form the hanger for the ornament, wrap a piece of twine around the ball and secure tightly with a knot.  Tie the excess twine to form a two to three inch loop.
4. To make the papier mache paste, pour one cup of warm water into a large mixing bowl.  Slowly sprinkle flour into the warm water while stirring rapidly with the whisk until the mixture thickens to the consistency of gravy.   Tip:  If you sprinkle the flour very slowly, the mixture will not be lumpy, but a few lumps aren't going to ruin anything!  The perfect consistency is a matter of preference –ideally, it will drip a little but not be too runny.  There are a million flour+water papier mache recipes online, but believe it or not, it is super easy to just "wing it"!  It is almost impossible to mess up the paste as long as it is not too runny, because the paste will not be thick enough to dry to form a hard surface.
5. Cover the table with newspaper to minimize the mess.  Dip paper strips into the paste, using fingers to remove excess and wrap the paper around the ball until you have covered it with two or three layers.  Dip your hands in the paste and rub a layer over the ball to smooth out the ridges and ensure a consistent layer of paste.  Hang to dry overnight or until there are no damp or soft spots and it is hard to the touch.
6. Now it's time to decorate!  If you want to decoupage the ornament, brush school glue or Mod Podge on the ball and layer pieces of tissue paper, fabric, and ribbon to the ball.  Brush a generous coat of glue or Mod Podge over the paper and fabric.  Sprinkle glitter while the glue or Mod Podge is still wet.    Whether you choose to paint it or decoupage it, get creative and give it your own unique flair!
small hands big art is an art studio in South Charlotte that offers classes, camps and parties for children and young adults. Located at 8025 Ardrey Kell Road, Charlotte, NC 28277.
?