Papier Mache Carrot Pencils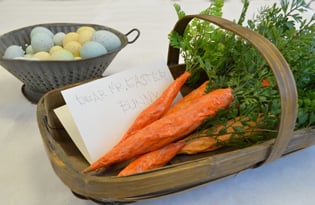 Motivated to whip up a less predictable spring craft involving something other than pastel colored eggs for a change, these papier mache carrot pencils seemed like the obvious answer! Sure, any of the kids at school can boast an impressive collection of perfectly sharpened Ticonderoga 2Bs (with erasers), but show us a single kid who has one of these in his backpack!!  mmmm…hmmmm.
You Need:
1. Pencils (all sizes). We thought the little nubby ones made the cutest carrots!
2. Bowl to make papier mache paste
3. Whisk
4. Strips of craft paper or newspaper
5. Flour
6. Warm water
7. Aluminum foil
8. Orange, white & brown tempera or acrylic paint & paintbrush
9. A few stems of artificial leafy greens for carrot tops
10. Tape
How to Do It:
1. Sharpen the pencils. Here we must confess a slight design flaw, in that once you make these into carrots, you may only be able to sharpen the pencils a few times.  So, as we're always saying to the kids in class – don't press so hard!  Or, the obvious solution would be to make them using a pen, but then you might not be able to show them off in class or use your lucky carrot on your math test. Life is a series of trade offs.
2. Secure the leafy greens to the top of the pencil with tape.
3. Gently crumple the aluminum foil around the pencil to "sculpt" your carrot shape. Foil is highly underrated sculpting medium – we use it a LOT with papier mache! Make sure to vary your carrot shapes and sizes, just like Mother Nature.
4. Mix the papier mache paste. There are a ton of recipes you could follow, but the simplest is to just pour 3/4 cup of warm water into a bowl, and using another cup, slowly sprinkle the flour into the water while stirring briskly with the whisk. The warm water and rapid stirring helps to ensure there are no lumps. You have added enough flour when the mixture gets to the consistency of yogurt. That's all there is to it!
5. Dip the strips of newspaper into the paste and gently wrap around the foil on the pencil. Keep layering the strips until all the foil is covered and you have at least two layers of paper. Smooth the paper around the tip of the pencil and the top so the carrot will look realistic.
6. Let dry overnight.
7. Paint the carrots. A few tips to make your carrots look realistic: Mix a few shades of orange so that there are varied shades and splotches of different colors on each carrot. You may have to apply two coats. After the orange coat is dry, dip your brush into watered down brown paint and holding the brush about 6″ away from the carrot and using your thumb, splatter the carrots to give them some realistic looking speckles. After that is dry, you can also take a light brown magic marker and very lightly draw lines here and there on the carrot to look like natural striations.
8. Consider giving a carrot pencil as a gift to the Easter Bunny with a thank you note for the lifetime of peeps and jelly beans he has bestowed upon you. He rarely receives any acknowledgment of his generosity, let alone written correspondence, so we're sure he would be most appreciative!
small hands big art is an art studio in South Charlotte that offers classes, camps, & parties for children & young adults.
8025 Ardrey Kell Rd.
Charlotte, NC  28277
704.246.8271
www.smallhandsbigart.com