Pallet Projects for Family Homes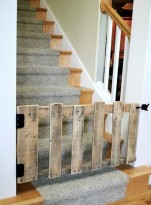 Do you love a home improvement bargain? Are you handy with a power screwdriver? How about a saw? If so, you are going to love these pallet projects for families. Since you can get used pallets for little to no money these projects are uber-affordable. The first project is a gate for your stairs. It could be used in homes with babies or pets, or both!  All you have to do for this is cut the pallet down to size and add gate hardware, available at your big box hardware store. I'd also recommend sanding it really well and giving a coat of sealer or paint. 
Another simple project is this pallet shoe rack. While the one pictured is hung on the wall by some wire, I would recommend you screw it into studs for more stability. Then all you have to do is insert the toes of your shoes and sneakers and they are up and off of the floor! So simple!
This next project is for all you moms who want one of those fancy mudroom entries but don't have the cash to build it. Using pallets makes it quick, easy, and affordable. When you hang it against the wall be sure to anchor it directly into the wall studs so that once it's loaded up it won't pull out of the wall and land on one of your beloved family members!
FYI – the long hooks are available in the kitchen pot rack department of IKEA.
A little more complicated, this pallet project calls for the use of two additional power tools: a jigsaw to make the curved cuts and a drill for the towel bar. But once you master those you can actually get several towel racks out of one single pallet. You can use one at home and give the others for gifts. You know, the holidays are coming! 
Now the question everyone asks is "Where can I get used pallets?" Pallets are used to ship just about everything to businesses, but the larger companies generally have pallet recycling programs in place. Smaller companies, while they won't have as many pallets available, will appreciate you taking them off of their hands. So all you have to do is ask! Also keep your eyes open when driving past dumpsters as some companies just place them out in the back in hopes they'll disappear…
Barbara Green is the owner of Sensibly Chic Designs for LIfe and the host of Ask the Desing Diva radio show. She believes you CAN have it all: kids, pets, AND a beautiful home. See her line of stain-free, kid proof furniture at her showroom located at 830 Lamar Avenue or give her a call at 704-608-9424