Oyster Stew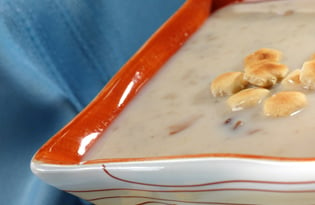 A Rich-and-Creamy First Course
For oyster lovers, this stew by restaurant Forty-Six Chef Michael Venendaal is sure to please. A simple base of celery, yellow onion, potatoes, stock and spices can warm up the company on a chili November night.
Oyster Stew
Recipe by Chef Michael Venendaal
INGREDIENTS
1 quart shucked oysters (undrained)
1/4 cup diced celery
1/4 cup diced yellow onion
2 cups diced russet potato
3 tablespoons blended oil
4 tablespoons flour
2 bay leafs
1 tablespoon Old Bay seasoning
1 teaspoon Cayenne pepper
1/4 cup dry white wine
1 quart shrimp stock
1 pint heavy cream
DIRECTIONS
Add blended oil to medium size stockpot, and then add onions and celery. Cook onions and celery until translucent. Add flour. Once you have mixed in your flour, add warm shrimp stock and whisk until stew thickens. Add potatoes, bay leafs, Old Bay, white wine and Cayenne pepper. Cook for 10 minutes on medium heat and then add oysters with heavy cream. Cook until potatoes are tender.
Michael Venendaal is a graduate of Johnson & Wales University in Charleston, S.C. He is responsible for creating healthful lunch and dinner specials, and delicious homemade soups at Forty-Six, located at the North Carolina Research Campus in Kannapolis.
?More Recipes from Charlotte Chefs:
> Greek-style Greens Phyllo Pie & Baked Salmon with Braised Fennel and Local Greens?
> Warm Brie en Croute with Fig Jam
> Bourbon-Pecan Encrusted Sea Scallops with Roasted Beets and an Orange Infused Vinaigrette Arugula Salad?
?