Organizing Kids with Dollar Store Finds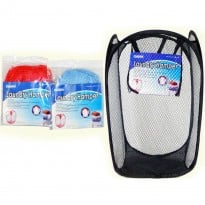 One thing that is as guaranteed in life as much as death and taxes is that kids have a lot of stuff! In order to have them be able to find what they need and for you to maintain a modicum of sanity, you need to have organization plans in place to keep the stuff from overtaking your life. Thanks to dollar stores, it doesn't have to cost a lot to create the systems for sanity! For instance, now that the warm weather is here, families are treking to parks, ball games, and the beach. Us a pop-up mesh laundry bag from the dollar store to haul lightweight toys back and forth. They are particularly useful for sand toys, since at the end of a fun day at the beach you can carry them all to the ocean and rinse off the sand while still in the bag.
Shoe organizers should be hung on the back of every door in the home! In the bathroom the pockets can hold hairbrushes, styling products, barrettes, lotions, toothpaste, and more. In the bedroom you can put socks, underwear, small toys, and of course, shoes! In the kitchen you can put single serving snacks that are within easy reach for your child.
Ice cube trays come in an array of fun colors and you get 2 for your one dollar investment. They are perfect for storing earrings, school supplies like paper clips, or tiny toy pieces.
Pill organizers are also ideal for small toy parts. The larger pill containers make perfect travel storage so your child can take their favorite lego mini set to a friend or relative's house.
For those parents whose kids love creating with rainbow loom, this other type of dollar store pill organizer is ideal. With each section being a different color, all of the loops can be organized by color, too!
Do you have any other dollar store organizing tips? Please share them in the comments section below.
Barbara Green is the owner of Sensibly Chic Designs for Life and the host of Ask the Design Diva radio show. She believes you CAN have it all: kids, pets, and a beautiful home. Her showroom is located at 830 Lamar Avenue in Charlotte and is open by appointment only. Mention Charlotte Parent magazine when you call 704-608-9424 to schedule your consultation and receive the first 30 minutes free!