Organizing Kids Rooms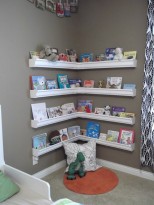 A lot of people resolve to be more organized when a new year begins. Why not try and get your kids into organizing, too? If this habit is instilled at an early age it will help them to be more independent as they grow. If you are also trying to instill a love for reading, this book shelf idea will help with both. This DIY project is made from rain gutters and is super easy. Just get the desired length of gutters from your local home improvement store and screw them into the wall. Be sure they are anchored into the studs and not just into the drywall so they won't fall down with the weight of the books.
The next organizing tip is to use clear storage bins that can stack on each other or on shelves. It is important to get the clear containers so that the contents of each can be visible. With them all lined up on the wall or a shelf it is easy to see at a glance what is in each bin. That prevents your child from having to take all the bins down just to find out what was inside. 
Pegboard isn't just for the garage anymore. It is super helpful when setting up a craft or study station for your kids. Pegboard is sold in 4′ x 8′ sheets which will hold a ton ot toys and craft supplies. It can be cut down to whatever size suites your needs, and painted a color that works with your decor. All sizes, shapes, and types of accessories are avaiable to customize the pegboard for your own personal needs. Getting everything up and off the table leaves more room for creativity to grow. 
If you have a Lego lover on your hands, you need ample storage for the millions of tiny pieces that accumulate. A great way to encourage creativity is by grouping the legos by color rather than keeping the pieces in the specific set it was purchased. An easy way to do this is by using these pull-out drawers. Each drawer is labeled for a different color lego which makes finding the prefect piece easier and also aids in cleanup.  
Finally, if your home is overrun with stuffed animals, this is the perfect DIY storage solution for you! Start with a bookcase that the shelves have been removed. Then drill holes evenly spaced on the top and bottom of the bookcase and string with bungee cords. You will be amazed at the number of animals that can be stuffed in that small area with the aid of the bungees keeping them inside. 
Do you have any special organizing tips you'd like to share with our readers? Please add them in the comments section below.
Barbara Green is the owner of Sensibly Chic Designs for Life and the host of Ask the Design Diva radio show. She believes you CAN have it all: kids, pets, and a beautiful home. Her showroom is located at
830 Lamar Avenue in Charlotte, NC and is open by appointment only. Call 704-608-9424 and mention you read Charlotte Parent Magazine to receive a free 30 minute consultation.