One Place I Urge You Not to Bring Babies/Toddlers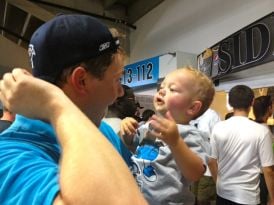 When you become a parent you also become an apologist for your kids. Odds are you've had to apologize on their behalf when they've acted out, thrown a loud tantrum, been rude or bitten another kid. I don't recommend attempting to lighten the post-bite mood with Mike Tyson or Marv Albert jokes.
I take my boys Tyler (4.5) and Chase (2) almost everywhere: restaurants, stores, the doctor's office and even Panthers Fan Fest at Bank of America Stadium. I'm also one to remove one or both of the kids from a bad situation as quickly as possible. Yes, it's only a short-term solution but in that moment it's the courteous thing to do. For me it doesn't matter how cheap the restaurant is or how many other kids are loud or obnoxious, social consideration and respect is more important. A rarity right? Most parents seem to let meltdowns get to three-alarm fire status and stay there. We were in Steak 'n Shake recently and my wife Kristen and I had to escape with our two year-old Chase because he was having a rough day. A day so rough even an Oreo Ice Cream Sandwich bribe from the restaurant manager couldn't fix it. I quickly scarfed down some chicken fingers and fries while Kristen took Chase outside. Then after a seamless tag out that would make even the Hardy Boyz jealous, I would take over tantrum control. While it wasn't enjoyable for us, it probably made for a much better experience for everyone else.
I'm fine with parents who chose to bring their young kids (Under 6) anywhere that there isn't a "no kids" policy with one exception. ANY movie rated higher than PG. If you choose to bring them to the movie theatre and they make any noise, you should remove yourself and your kid. I take my boys everywhere but I'm not going to go into a 9:30pm showing of "Lincoln" with a baby or toddler. Those of us with social consideration are paying a babysitter to watch our kids, something we rarely do so we can enjoy ourselves. While I'm immersed in the words of the 16th President of the United States, "We are stepped out upon the world stage now, with the fate of human dignity in our hands. Blood's been spilled to afford us…" cries or a scream of "I have to go pee pee right now!" from a toddler can ruin the moment and the movie. The fact that my example uses "Lincoln" shows how often we make it to the movie theatre to see something that isn't made by Disney/Pixar.
What are your dos & don'ts when it comes to taking your little ones out in public?
WCCB News Rising Host Derek Jamesbalances a full-time job in the glamorous world of television news (including a 2:30am wake up and stale coffee) along with managing chaos every afternoon for 4 year-old Tyler and 2 year-old Chase.
See more from Derek: @DerekJamesTV on Facebook and Twitter.