One for the Archives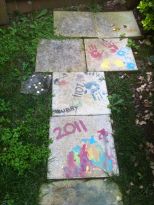 Some habits are hard to break. Amelia was born on the 5th of December, and on her first day of life we sent newborn pictures to family and friends. On the fifth of every month since, I've collected, uploaded, edited, and annotated photos of Amelia's doings for the month. Perfectly normal, right? Until you realize that the photos I'll send next week will be in an album labeled "58 months." Now it sounds obsessive.
But I love to look back and see the changes that are only obvious over time – the ones that are imperceptible from one day to the next, but if you place four years of pumpkin patch photos side by side? My, how she's grown.
Craft traditions do the same thing. On our first Mother's Day, Amelia was about six months old. I dipped her hand in paint and helped her stamp a print on a patio paver.
The first paver may have started as a way to straddle a mud puddle in the backyard, but it has grown into an annual ritual. Every year on or around Mother's Day, we stamp our hands and paint a paver together. When grandparents visit from New England, we make extras and include their handprints too. Slowly, we're building a sidewalk over the mud puddle, and following our little paver path is like a walking tour through Amelia's growth chart – tiny hands get larger, handwriting changes from mine to hers, now full and clear, colors and painting style moves from finger-shmearing to careful brushstrokes. What will we do if we ever move? Rip up the sidewalk, absolutely.
Pavers are really easy. Craft stores sell all kinds of mosaic kits you can use, and we tried those one year (yep, there it is in the photo), but the most satisfying paver projects we've done are actually the simplest. You can buy any size paver at a hardware store, we particularly like these. They're simple, inexpensive, and very smooth. They're also heavy – so remember to park near the door! We use acrylic paints, which are (reasonably) permanent once they dry, but wash off skin with water. Once the paint is dry, spray it with a clear gloss topcoat. We didn't do this the first year, and the paver has faded quite a bit. And that's it! We start with a handprint and write the date with paint or permanent marker, and embellish from there. The rest, quite literally, is history. 

And I see no reason to break this habit. 
Want more Mess?  Visit Melanie's blog!