On-the-Sidelines: Fall Sports Fashion for Mom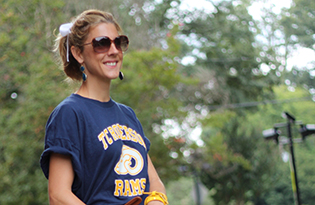 Photo by Donna Jerniga, momentsbydonna.com
Temps are dropping, leaves are changing, and Monday nights are a little more exciting. October means fall, and in the Queen City, fall means football. We are lucky to have our very own NFL team in the Carolina Panthers, but no matter what team you route for, be it in the NFL, college, high school or little league, with these great fashions, you are definitely ready for some fall sports action.
Cute NFL gear for the mamas.
'80s girl-next-door heartthrob Alyssa Milano has created her own line of cute game day tops for most of the major league sports teams. One night in 2006, Milano was underdressed and chilly at Dodgers Stadium. She made a made dash for the team store and quickly realized there was nothing cute and fashionable for her to wear as she cheered on her team. With that, the birth of touch by Alyssa Milano. Shop all of the sweetheart's looks at touchbyajm.com.

Dress to impress.
You want to be comfortable sitting in those hard-as-a-rock stadium seats. It's fine to dress casual, but whatever you do, please, do not be sloppy. This is the South. Everybody knows everybody, so always, as a rule-of-thumb, dress better than you have to. You never know when you might be meeting someone who could actually be the next in line to hire you.
Color coordinate.
Want to be on point with your team's colors but not overtly so? The easiest way to do this is to have your sports team's color on hand and ready in the form of a button down oxford shirt. Pair it with your favorite blue jeans or denim skirt and cowgirl boots, and you've got your game day uniform at the ready.
Accessorize.
Whether you cheer from the stadium or the comfort of your own couch, flaunt your favorite team colors this season with a wide array of spirited clothing and accessories by Slater Zorn. As we head into fall and the temperatures drop, stay cozy and cute with the company's silk-fringe ombre- shaded scarf. slaterzorn.com.


Slater Zorn Ombre Shaded Three Color Scarf, $135, available at slaterzorn.com
Flask bangle.
For its ingenuity and sleek design, quite possibly my favorite accessory since the turn of the century is Cynthia Rowley's Flask Bangle. Available in stainless steel or 24-karat plated gold, this bracelet is the most stylish hot chocolate (or whatever else you're sipping on!) container you'll ever carry.

Flask Bangle, $225, available at cynthiarowley.com
Whitley Adkins Hamlin is a local stylist and mom to two boys under age 5. Read her Mother of Style blog at CharlotteParent.com/blogs.