Off to the Races!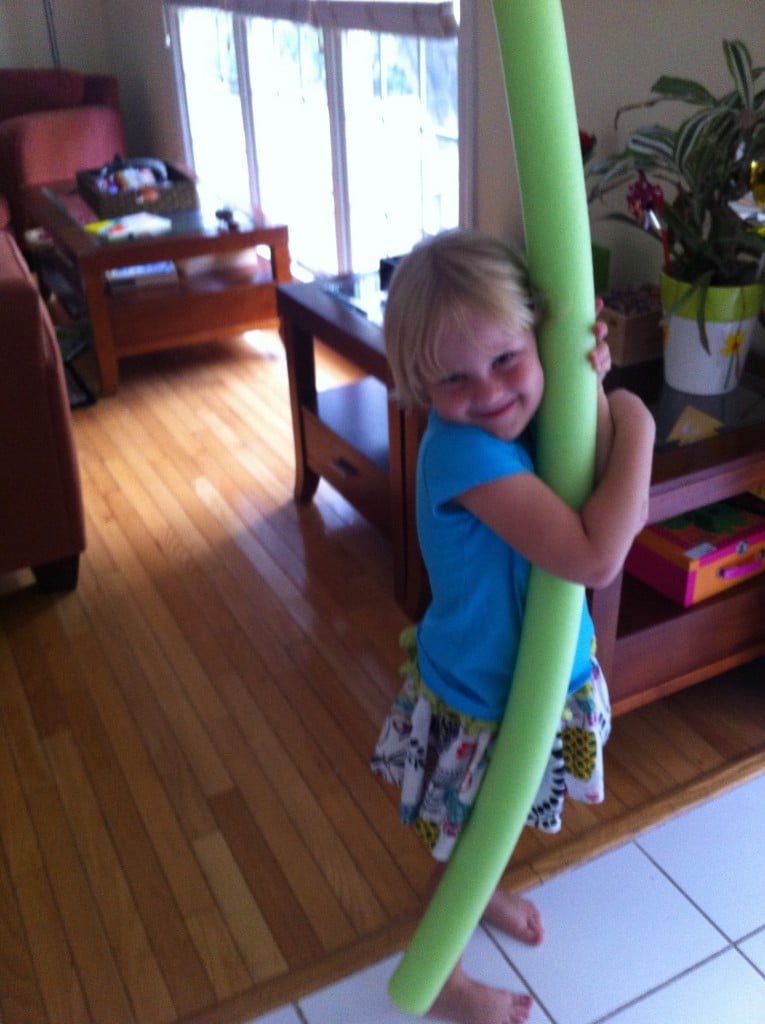 Now that fall is practically here and Charlotte backyards are a delight again, it's easy to forget that just a few 
weeks ago it was so hot your shoes could melt on the sidewalk and the last thing anybody wanted to do was play outside. But still there were playdates…indoors under sunny skies.
Charlotte's strange that way. It was on one of those sweltering summer days that Amelia, her friend Samantha and I tried this marble racing project that I found on Pinterest. Quick, open-ended, and free, it seemed like a perfect last-minute activity. And a great use for the pool noodle that my newly-swimming kiddo no longer needs. 

This one isn't exactly a craft, the only "crafting" required is slicing the noodle in half with a serrated knife, which is clearly an adult job. But once the noodle is open, the kids are completely in charge. We started by sloping the two tracks through the back of a chair, and racing marbles from the top to the bottom.
Fun, sure, but the marbles rolled FAST, across the floor and under the furniture. So the girls built a Lego wall to keep the marbles in.
The barrier was a success, but it was only the beginning. They added tunnels, experimented with different noodle angles, sent fists full of marbles flying down the tracks at the same time, and created targets for the marbles to knock over. So what did we learn? Well, we proved once more that the toys you make are at least as fun as the toys you buy. And we stayed cool! If we try this activity again, I might include a few variations: 
1. Provide more materials. The original pinner suggests shoeboxes, timers and materials to make flags, etc. Boxes would have solved the marbles-all-over-the-floor problem, and some more craft supplies might have inspired other ideas. This was a last-minute improvisation kind of day for us. 
2. The height of the chairs and the length of the pool noodles created a pretty steep slope. Starting lower (maybe with hills!) would slow down the marbles and lengthen the race. 
3. Include other kinds of tubes – paper towel tubes, flexible hosing, almost anything would work. The combination of enclosed and open tubing could be interesting, and multiple tubes could be connected, creating a longer racetrack. 

Overall, it was a nice way to repurpose a pool noodle and some marbles. It didn't occupy the girls for hours, but it reinforced for them that they can make what they need, have ideas and make them happen. Any activity that proves this message is a success for me!
Want more mess? Visit Melanie's blog!