Not-so-traditional Turkey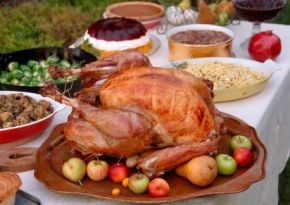 Thanksgiving and Christmas dinners wouldn't be the same without a turkey on the table. Whether they are roasted, smoked, deep fried or otherwise, turkeys have come to symbolize the holidays, especially at Thanksgiving when over 45 million turkeys are cooked and eaten.
Introduced to pilgrim settlers by the Native Americans, the wild turkey, which is the only breed of poultry native to the Western Hemisphere, was first eaten at a celebration of thanks in 1621.
President Abraham Lincoln declared Thanksgiving an official holiday in 1863. By 1916, Thanksgiving was referred to as "Turkey Day" because of its popularity at a traditional holiday feast. Today turkey continues to be the most popular holiday meal. However, if you are looking for something different to serve this year, try one of these delicious twists and make your holiday meal, extraordinary.
Maple Roast Turkey
A New England style turkey done with real maple syrup, this recipe is especially wonderful when mixed with other harvest fruits such as those found in cranberry, sausage and apple stuffing. Rated five stars, Maple Roast Turkey will have family declaring it "moist, juicy, succulent," and "best turkey recipe."
INGREDIENTS
•2 cups apple cider
•1/3 cup real maple syrup
•2 tablespoons chopped fresh thyme
•2 teaspoons dried marjoram
•2 1/2 teaspoons grated lemon zest
•3/4 cup butter
•14 pounds whole turkey, neck and giblets reserved
•2 cups chopped onion
•1 cup chopped celery
•1 cup coarsely chopped carrots
•2 cups chicken stock
•3 cups chicken stock
•3 tablespoons all-purpose flour
•1 teaspoon chopped fresh thyme
•1 bay leaf
DIRECTIONS
1.Boil apple cider and maple syrup in a heavy saucepan over medium-high heat until reduced to 1/2 cup (about 20 minutes). Remove from heat and mix in 1/2 of the thyme and marjoram and all of the lemon zest. Add the butter or margarine and whisk until melted. Add salt and ground pepper to taste. Cover and refrigerate until cold (syrup can be made up to 2 days ahead).
2.Preheat oven to 375 degrees F (190 degrees C). Place oven rack in the lowest third of oven.
3.Wash and dry turkey. Place turkey in a large roasting pan. Slide hand under skin of the breast to loosen breast skin. Rub 1/2 cup of the maple butter mix under the skin of the breast. If planning on stuffing turkey do so now. Rub 1/4 cup of the maple butter mixture over the outside of the turkey. With kitchen string tie legs of turkey together loosely.
4.Arrange the chopped onion, chopped celery and chopped carrot around the turkey in the roasting pan. If desired the neck and giblets may be added to the vegetables. Sprinkle the remaining thyme and marjoram over the vegetables and pour the chicken stock into the pan.
5.Roast turkey at 375 degrees F (190 degrees C) for 30 minutes. Reduce oven temperature to 350 degrees F (175 degrees C), and cover turkey loosely with foil (shiny side towards turkey). Continue to roast until very tender, basting occasionally with pan juices. About 3 to 4 hours unstuffed, 4 to 5 hours stuffed. Pierce the leg joint with a fork, if the juices run clear or faintly pink then the turkey is done. Transfer turkey to a platter and cove with foil. Reserve pan mixture for gravy.
6.To Make Gravy: Strain pan juices into a measuring cup. Spoon fat from juices. Add enough chicken stock to make 3 cups. Transfer liquid to a heavy saucepan and bring to a boil.
7.Mix 3 tablespoons of the reserved maple butter mixture with the flour in a small bowl to form a paste. Whisk baste into broth mixture. Add the chopped fresh thyme and bay leaf. Boil until reduced and thickened slightly, whisking occasionally. Add apple brandy if desired and season with salt and ground pepper to taste.
Turducken
What do you get when you cross a chicken, a duck and a turkey? Though it sounds like a kid's joke, cooking these three birds together is a Cajun tradition that is still carried out in many kitchens across the southeast, particularly in Louisiana. Like many Cajun recipes, turducken is filled with a variety of flavors and spices and requires patience in preparation. This recipe is courtesy of Cajun Grocer.
Before assembling all the ingredients, be sure and have all birds deboned by a butcher unless the adventure in this important step is appealing. This recipe calls for more than one kind of stuffing and it is best to prepare these ahead of time. Enjoy!
INGREDIENTS
•20 – 25 lb. whole turkey, deboned with wings and legs still intact.
•5 – 6 lb. whole duckling, deboned
•3 – 4 lb. whole chicken, deboned Poultry seasoning blend
•Cornbread Stuffing (recipe listed below)
•Cajun Rice Dressing (recipe listed below)
•Shrimp Stuffing (recipe listed below)
•Kitchen string Cotton thread and a large needle
Cornbread Stuffing
•2 Tbsp. cooking oil
•4 cups cornbread (crumbled)
•1/2 lb. chopped chicken livers
•1/2 lb. chopped chicken gizzards
•1 cup chopped celery
•1 cup chopped onion
•1 cup chopped bell pepper
•Poultry seasoning, salt and black pepper (add according to taste)
•Butter or olive oil for sautéing vegetables
•Chicken broth
Brown chopped chicken livers and gizzards over medium heat in cooking oil. Add celery, onion, and bell pepper cook until soft. Season with salt, pepper, and poultry seasoning. Add crumbled cornbread to vegetables and meat. Pour chicken broth into mixture until it reaches the desired consistency. Adjust seasoning and cool before stuffing bird.
Cajun Rice Dressing
•2 Tbsp. cooking oil
•lb. ground beef
•4 cups cooked white rice
•1 cup chopped bell pepper
•1 cup chopped onion
•1 cup chopped celery
•1 clove minced garlic
•1 can cream of mushroom soup
•2 cups beef broth
•Salt and black pepper (to suit taste)
Brown ground beef over medium heat in cooking oil. Add celery, onion, bell pepper and garlic cook until soft. Season with salt, pepper, and Cajun seasoning. Add the cream of mushroom soup to the pot and heat through. Mix cooked rice with beef and vegetables. Pour beef broth into mixture until it reaches the desired consistency. Adjust seasoning and cool before stuffing bird.
Shrimp Stuffing
•2 Tbsp. cooking oil
•4 cups cooked rice
•2 lb. chopped shrimp (raw)
•1 cup chopped onion
•1/2 cup chopped green bell pepper
•1 cup chopped celery
•1 clove minced garlic
•1 can diced tomatoes
•Salt and black pepper (to suit taste)
•Dash of red (cayenne) pepper
Saute celery, onion, and bell pepper until soft. Pour in diced tomatoes. Add chopped shrimp, cook until slightly pink. Season with salt, pepper, and cayenne. Combine with cooked rice. Add a little water if stuffing seems dry. Adjust seasoning and cool before stuffing bird.
DIRECTIONS
Begin by placing the turkey skin side down and seasoning it well with salt, pepper and poultry seasoning. Then spread the cornbread stuffing over the turkey. Next, place the duck on top of the cornbread stuffing and spread the Cajun rice dressing over it. You will then place the chicken on top of the Cajun rice dressing and add the shrimp stuffing. Each stuffing layer should be approximately 1/2 inch thick. Any leftover stuffing can be placed in casserole dishes and baked at 350 degrees Fahrenheit for approximately 30 minutes.
Once you've stuffed each bird, fold the sides of the turkey together to close the bird. Enlist someone to help hold the turkey closed as you begin to sew up the opening. The stitches should be spaced about 1 inch apart. You finish sewing the Turducken tie the legs together, just above the tip bones. Be sure to place the Turducken breast side up while cooking.
Once the turducken is assembled, place the turducken in a large roasting pan and cook in a 325 degrees Fahrenheit preheated oven. Alternatively, you can place the turducken on aluminum foil or in an aluminum pan, and then cook on a 350 degrees Fahrenheit grill or smoker.
Regardless of which method you choose to use you should cook the bird until a meat thermometer inserted into the thickest area on the bundle reaches an internal temperature reaches 180 degrees Fahrenheit (165 degrees Fahrenheit is the minimum temperature for cooking poultry, but 180 degrees Fahrenheit will ensure that the turducken is fully cooked all the way through). The USDA recommends that a stuffed turkey of this size will generally take 4 1/2 to 5 1/2 hours to cook, but your best bet is to rely on the meat thermometer.
Grilling or Smoking a Turkey
If you are looking for an alternative to roasting your turkey, consider smoking or grilling it outdoors. One of the benefits of smoking a turkey is that it's almost impossible to overcook anything in a smoker. The temperature remains low and the cooking is slow, resulting in perfectly moist and tender meat with a rich, complex flavor.
The Tools
Besides a smoker, there are a few other things you'll need to smoke your turkey:
•A large pan
•An accurate meat thermometer
•Wood chips–any kind of fruit wood, such as apple or cherry, complements turkey very well, but hickory, pecan, and maple will be equally good
If you're smoking a whole bird, we recommended that you choose one weighing no more than about 15 pounds–large turkeys take too long to heat all the way through. If you choose a frozen turkey, it should be thoroughly thawed before you begin. (Ensure that you have removed all the giblets and gizzards from the turkey, as well as the plastic pop-up thermometer).
Prepping
To add even more flavor to your turkey:
•Try brining: while not an essential part of smoking a turkey, soaking in brine before cooking gives the meat maximum flavor and juiciness.
•Rub bird with oil or butter for crispy and evenly browned skin.
•Apply a dry rub just before smoking. (If you have brined the turkey, you should not use any salt in the dry rub).
Unfortunately, you can't stuff a smoked turkey; if you have your heart set on stuffing, you can make it separately in the oven.
Smoking Your Turkey
Once you have prepped your turkey, you are ready to begin smoking:
•Place turkey in the pan, breast-side up.
•Insert the meat thermometer deep into the thigh, being careful not to touch the bone or joints.
•Run your smoker at 240 degrees F (115 degrees C).
•Allow 30 minutes of cooking time per pound of meat.
•Baste the turkey with its own juices a few times during smoking, but avoid opening the smoker too often; you will lose heat and increase the cooking time.
When the thermometer reads 165 degrees F (75 degrees C) , pull the bird out of the smoker and let it rest at least 15 minutes. Carve and serve.
Meaghan Cark is web editor for Charlotte Parent magazine.