New Color Trend for Kids' Furniture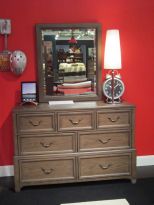 Sometimes writing this column makes me feel so old!! While I love sharing ideas for living a beautiful life with kids, it serves as a weekly reminder that mine are grown and gone. It also reminds me of how much has changed when it comes to decorating kids' rooms. For instance, when it was time to buy furniture for my babies, the choice was either white or oak. That's it. Parents today have an almost infinite choice in colors and finishes for their kids' furniture.
At the most recent International Home Furnishings Market at High Point, many furniture manufacturers presented kids furniture that was gray. The dresser above is a natural wood dresser, but had a wash of gray stain over the wood to give it a new look while allowing the wood grain to be visible. The bedroom set on the right has a painted finish in a very pale gray. It still offers the same clean look as white furniture, but is a bit softer.
The glitzy bedroom to the left is one I would have LOVED to have when I was a child. I almost wish it were mine right now! The gray stain on the dresser is accented by an upholstered bed featuring a metallic gray finish on the wood trim. If you have a little princess at home I'm willing to bet she'd love waking up in that bed.
This bedroom features solid wood furniture that is stained a deep gray. The gray stain is more opaque than the first example in this post, but it gives more of a wood-grained look than a painted finish. This room proves that just because the furniture is gray, the room doesn't have to be dull and boring. On the contrary, this room is vibrant and full of energy. It is almost as fun as a day at the circus. 
Do you think you'll explore gray for your child's bedroom? Please share your ideas with the other parents using the comments section below.
Barbara Green is the owner of Sensibly Chic Designs for Life and host of Ask the Design Diva radio show. She believes you CAN have it all: kids, pets, and a beautiful home. Stop by her showroom located at 830 Lamar Avenue or give her a call at 704-608-9424.