New Baby, New Business: How Local Moms Made It Work
Being a new mom isn't easy. Launching a business isn't, either. But doing both at once? It's not as crazy as it sounds.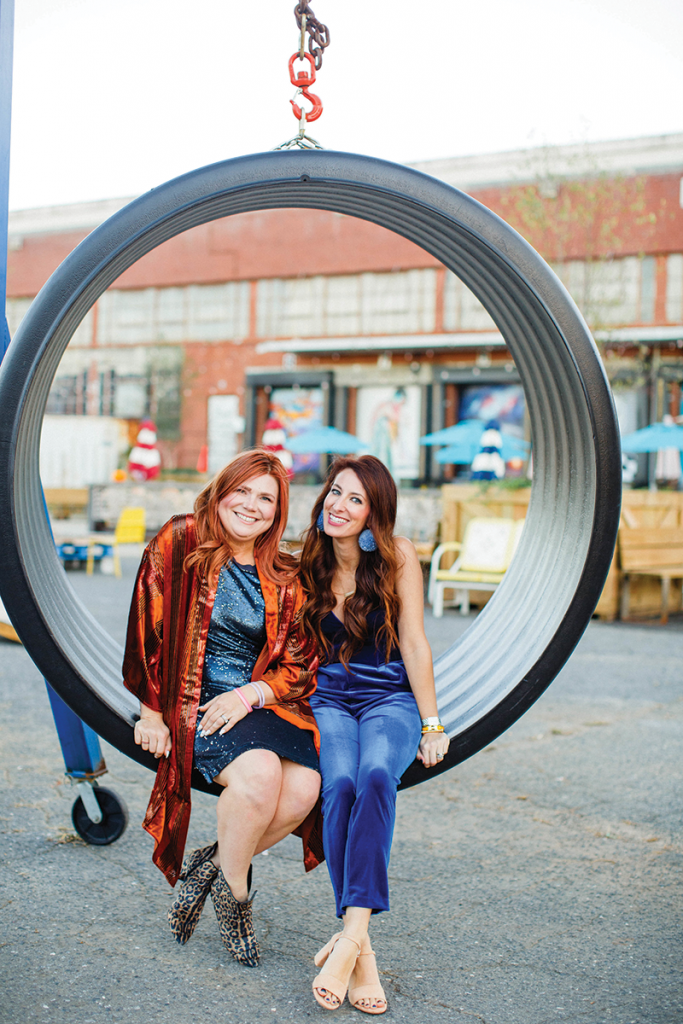 Whether you're someone's boss or someone's employee, the new working mom juggle isn't easy — and it isn't for everyone. The same could be said for entrepreneurism. After all, it's a bit like birthing a business.
Of course, there can be some great perks to being your own boss, (Flexible schedule? Yes, please.), but that's not to say there won't also be challenges. We spoke with two local entrepreneurs who launched their businesses as new moms — and wouldn't have it any other way. Here are eight lessons from their inspiring stories.
1. Timing isn't always everything
If there's never a perfect time to have a baby, there's also never a perfect time to launch a business. Women, in many ways, have the mindset to tackle both.
"I really enjoy working with women business owners," says Eileen Joyce, lead economic business specialist for the North Carolina chapter of the U.S. Small Business Administration.
"What I've seen in moms who start a business or they own a business and they become moms [is that] women are much better at juggling and scheduling, prioritizing, multitasking. And it really shows up in their business too."
For Sarah Baucom, an entrepreneur and mother of two, there was no reason to wait. Her first child was just 3 months old when she founded Girl Tribe Co., a women-positive graphic T-shirt company.
"For me it felt so emergent," says Baucom, who launched Girl Tribe with fellow mom Carrie Barker while also holding down a full-time job. "Every single day, in those early years, we weren't working in the same office, but we worked all day long together over Gchat, and text and calling. When you're fueled by something, there's no stopping that. That's the exciting part. You wait your whole life for that moment."
Escape Tactic owner Sarah Hamer took a slightly different path, leaving her job as an analyst at Red Ventures to launch an escape room business. She intended to have it up and running before her first child was born, but finding a location proved more difficult than she expected.
"There were a lot of places that didn't want to rent to us," Hamer says. "It was almost a year of trying to find a place. We'd get pretty close and then something would fall through. By the time we closed on a property, I was seven months pregnant."
The timing may not have been ideal, but Hamer couldn't fathom turning back. "In some ways I think [the timing is] a blessing in disguise, because even I can laugh at how crazy this is. It seems comical that you would be going into labor when there's a bulldozer at your building."
2. Seize the day
Girl Tribe's biggest break came when the Carolina Panthers ended up in the Super Bowl six weeks after the company's first pop-up event and the idea to make female-friendly T-shirts to support the home team took hold.
"I was looking around and I was like, oh my God, these shirts are so ugly that everybody is wearing! We can do better than this," Baucom says.
There were, of course, some challenges. In addition to a tight timeline to get new T-shirts designed and printed before the big game, Baucom's cofounder, Barker, was now the one with the baby who was just 3 weeks old. Baucom came up with a concept and a basic design — a tongue-in-cheek mashup of a famous line from "Star Wars" and Panthers linebacker Luke Kuechly that read, "Luke, I am your future wife." She tossed up a post on Facebook to gauge interest and there was a lot of positive response. Then it was go time.
"Carrie cleaned up the graphics; the Super Bowl was two weeks later. We had lines of women come in to buy. Exhausting every screen printer in town," Baucom says. "We were like, 'This is awesome!' We were on the news three times that week for Super Bowl shirts."
3. Ask for advice
"Motherhood also prepares you on how to seek advice. I find women are more apt to ask more questions of more people, whether they're going to talk to fellow business owners about who's your accountant, who's your lawyer and why?," Joyce says. "I'm amazed at the business owners who don't do that. When I ask, 'Why didn't you ask another business owner, why didn't you seek three quotes?' They don't have an answer. Mothers make great business owners."
From connecting with fellow business owners to finding vendors or employees, one of the most important new business tactics for Girl Tribe was getting out there and meeting people while promoting their business. Baucom and Barker attended conferences to see what other business owners were up to. Then they focused on local entrepreneurs, asking for meetings over coffee to seek advice and opinions.
"The biggest thing we've ever done is just network constantly. I tell people that all the time," says Baucom, adding that nine out of 10 people she asked to coffee said yes. "Those people are some of my strongest supporters to this day. And now, people take us to coffee. Now I can give that advice."
4. Be Ready to Learn — Constantly
New moms are often eager to learn, and there's no shortage of friends and family — online or in person — to learn from. That hunger for finding out what works for others also translates well to the business world, but keep in mind some lessons are best learned firsthand.
"I love all the lessons we've learned, even if they were really crappy at the time," Baucom says. "I think when you're an entrepreneur it feels, especially early on, like the most excited you've ever been in your whole life, constantly. We're much more grounded now."
She encourages anyone who is thinking of starting a business to seek and accept help "Sometimes we have a hard time asking for help. I know when people ask me for help I love to help them if I can."
5. Focus on Finances
It's important to have a handle on your finances from the start and be prepared for whatever curveballs might come your way, something Hamer found out firsthand.
"As a planner I had these financial models, employee models, everything modeled out. And then there are delays you would never imagine," she says.
One example? Mecklenburg County was hacked in December 2017, the county's electronic files were frozen, and the hacker demanded $23,000 in exchange for an encryption key that would release the files.
For Hamer, that meant the inspectors who needed to check out her building were delayed. She couldn't open for business until that final step was complete.
"If you can't take it in stride it can be really defeating," she says. "Who would've expected the city getting hacked? And that has real impact. I remember reading that [in the newspaper] and thinking, 'We're in trouble. This is going to delay things for weeks.'"
Baucom and Barker didn't pull a salary during Girl Tribe's first three years. Instead, they invested their profits back into the company.
"For any entrepreneur, get your money right as soon as possible. I think that's so important," Baucom says. "If you don't have your money right, then what are you doing?"
6. Find Your People
Sometimes the support you need as a new mom and new entrepreneur isn't business related at all. For Hamer, it was Mom 2 Mom, a Facebook group of local moms, that helped her feel supported.
"I couldn't have made it through without their encouragement. If you feel isolated as a mom, it can feel really daunting," she says. "It's hard whether you're running a business, staying at home or working a corporate job. We're all just trying to do what's right for our kid at that moment. That's helped keep things in perspective."
Then there's the support a new business owner gets at home, especially when there are kids at home too.
"Carrie and I are really, really lucky that both of our husbands are super supportive," Baucom says. "It's really important to feel like you're held up."
Hamer agrees. "My husband's such a huge help. He has his full-time, demanding job, but that he is willing to help with the business when I need help on top of his normal job is huge and such a relief; sometimes it doesn't feel like it's all on my shoulders," she says. "I really couldn't have done this without him."
7. Seek Balance
Like with parenting, it's important to have perspective — and remember that change is coming.
"It's important to embrace, when things are really chaotic, that this is just how things are today. Or this week. Or this month," Hamer says. The feeling of not being fully available as mom or business owner is typical, but as Hamer says, "You just kind of have to own that and accept what the outcome is. When I feel like I'm fighting myself — when I feel like I'm at work and should be at home — nobody wins."
8. Believe in Yourself
Confidence and believing in their own work ethic is what has helped to propel Girl Tribe Inc.
"It doesn't matter what we do, we're just going to keep trying to do it. We've always been confident in our own work ethic more than anything else."
And don't forget: Your kids are watching. Parental entrepreneurship was found to be a strong determinant of a person's own entrepreneurship, according to a 2015 study published in the Journal of Economics. Researchers from the Swedish Institute for Social Research at Stockholm University and Amsterdam School of Economics at the University of Amsterdam found that in Sweden, having an entrepreneur for a parent made a child 60 percent more likely to become an entrepreneur. Their conclusion? Unsurprisingly, parents are powerful role models.
Baucom's parents are both entrepreneurs, and her young daughter is already paying attention to her hard work and her successes, although she may have unique ideas about what those successes are.
"Once I said, 'What does Mommy do?' And [Baucom's daughter] said, 'Mommy makes cookies,'" Baucom laughs. "I had gotten custom cookies for all the Girl Tribe sponsors. She helped me with that."
"People want to know how we did it as moms. My answer is always, 'I don't know.' You just do it," adds Baucom. "Your kids are asleep, you've got a job, you've got two hours. Don't waste those two hours on Facebook. This is go time. [Having a child] just made me more focused. It makes you better at time management."
Aleigh Acerni is a writer who lives in Charlotte with her husband and 4-year-old daughter. She understands the hustle and keeping on top of deadlines and the job of being a mom.