New and Trendy Kids' Bedding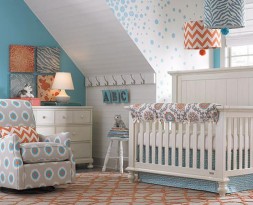 Did you know that the State of Maryland has banned bumper pads? The City of Chicago has, too, while the legislature of Illinois is considering making the ban statewide. The National Institute of Health has advised against the use of bumper pads due to risk of suffocation, strangulation, and entrapment. So what have the bedding manufacturers done in response to the cry for a national ban? They have come up with a new way to wrap a crib with stuffing! This time it's a rail wrap. I'm not convinced of the need or the functionality of it, but that is the new trend for companies to recoup the financial losses of bumper pad sales!
The next trend is one I'm not sure of either. It is bedding made for doodling. It is white bedding that comes with washable markers and your child can create pictures and designs to their heart's content. When they get tired of it or want a clean canvas, you simply wash the bedding and the doodles are gone.
While at first glance I thought it was a great idea, but after giving it time to digest I wondered whether children (particluarly the younger ones) have the cognitive ability to know (or care) which bedding and furniture is washable and which is not. My neighbor's grandchild had a great time drawing on their upholstered ottomans with a Sharpie marker, which was definitely NOT washable. Imagine the confusion a child will have when they can draw on certain pieces but not others. 
The last kids' room trend I really do love. It is loft furniture. All of the sleeping gets done in the loft, so the floor is left for play and storage, and boy does it offer A LOT of storage! Even the stairs leading up to the loft have drawers. These bedroom lofts are far superior to bunk beds.The stairs are much safer than the typical bunk bed ladder, and the sidewalls of the loft bed are strong and stable. Loft beds are the best way to make the most out of small bedrooms and bedrooms that need to be shared. 
What do you think of these trends? Yay or Nay?
Barbara Green is the owner of Sensibly Chic Designs for Life and the host of Ask the Design Diva radio show. She believes you CAN have it all: kids, pets, and a beautiful home. Her showroom, located at
830 Lamar Avenue in Charlotte, is open by appointment only. Readers of Charlotte Parent Magazine can call 704-608-9424 and schedule a free 30 minute consultation. Mention you saw it here!