Negotiating Flexible Work Schedules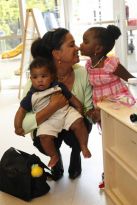 On-ramping back into the workforce after a maternity leave or leave of absence can be tricky. But what if you want to only go back part-time or perhaps work a non-traditional schedule? Negotiating a return to work under extraordinary circumstances can be daunting for some working mothers and many are hesitant to risk "rocking the boat" in order to get what they want and what suits their families.
With economic conditions today and the high price of fuel, many more employers are open to the idea of telecommuting, flex hours, and four day weeks. Job-sharing is another alternative work situation that is gaining popularity in the workplace and an ideal situation for a working mom who wants to remain a valued employee, but not take on all the responsibilities for her employer.
It's difficult to know what to ask, how to present the idea and overcome the objections. But doing the research, asking the right questions, and preparing a convincing proposal are tools that can help ease negotiations and result in a win-win situation for all parties involved.
"Negotiating flex-time with your boss is like negotiating anything else," says Peter Handal, President and CEO of Dale Carnegie Training. "You have to be thoughtful and organized in how you present the idea to him." More important, you have to be able to articulate how the company benefits from you working a flex-time schedule. Says Handal, "This is true whether or not your company has a flex-time policy in place."
Tips to Negotiating a Flex Schedule
Try using these strategies to negotiate your work options and create a schedule that works best for you and your family.
1 – Be prepared before asking. Review your job responsibilities to make sure a flex schedule will work. Prepare your home office and ensure you have the proper technology to handle communications with colleagues and contacts, as well as perform the same duties you normally would in the office.
2 – Be a detective. Find out if co-workers in other departments have had an success in negotiating a flex schedule. Don't forget to check out the competition. Do they allow for alternative work options? Is it an industry standard?
3 – Be a united front. Talk to your colleagues and see if anyone else is interested in a flex schedule or job-sharing situation. Strength is in numbers and you are more likely to succeed in getting what you want if it becomes "the norm."
4 – Be professional. Make sure your attendance record is clean and you don't have any tardy notes on file. If, for instance, traffic has been a challenge for getting to work on time, it may be a strong argument for working alternate hours to avoid heavy drive times. Management is more willing to consider negotiating with a valued employee.
5 – Be ready. Have a formal proposal written and ready to hand over to your boss, when negotiating time comes. A casual conversation is not the most professional way to ask for such a significant change. Your boss will know you mean business if you take the time to prepare a document.
6 – Be flexible. Remember, this is a negotiation and you must be willing to compromise if necessary. If you can't work alternate hours every day, perhaps you can ask to work different hours on Mondays and Fridays. Set a goal or a time line and test how a flex schedule works for you and the company.
7 – Be patient. If your company is new to the idea, it may take several attempts at negotiations before you get what you want. Continue to build your case and set time lines to review the idea throughout the year. Make note of other companies who have initiated successful work options and share those stories with your company.
Meaghan Clark is the Web Editor for Charlotte Parent magazine