Neat Eats: Hot Cross Bunnies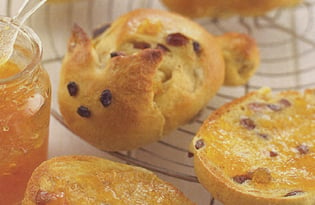 This year for Easter, try a creative new spin on Hot Cross Buns. Kids will love these bunnies made with simple ingredients and decorated with dried fruits. These are the perfect pastry treat for the spring season — whether you enjoy them for breakfast, lunch or dinner; just remember to leave some out for the Easter bunny to enjoy. (Recipe from "Princess Party Cookbook" by Annabel Karmel.)
Hot Cross Bunnies
2/3 cup milk
1/3 cup cold water
1/4 cup (packed) light brown sugar one .25 once package active dry yeast
3 3/4 cups bread flour, plus extra for kneading
1 tablespoon pumpkin pie spice
1 teaspoon salt
4 tablespoons butter, melted
1 egg, beaten
Canola oil, for greasing
2/3 cup raisins
2 tablespoons mixed candied peel
Decoration
2 tablespoons milk
2 tablespoons superfine sugar
24 or 36 currants (you need 3 per bunny)
• Put the milk in a saucepan and bring to a boil. Immediately remove from the heat and add the water and 1 tablespoon sugar, then let cool for 5 minutes. Stir in the yeast until dissolved, then let stand for about 5 minutes, until the liquid starts to bubble slightly.
• Out the flour in a large bowl and stir in the yeast, the remaining sugar, spice, and salt until well blended. Make a well in the center and add the butter and egg, then add the milk and yeast mixture and combine to make a soft dough, adding a little extra water if needed.
• Knead the dough on a lightly floured surface for about 10 minutes, until smooth and elastic. Put in a large oiled bowl and cover with plastic wrap. Leave to rise in a warm place for 1 ½ to 2 hours, or until doubled in size.
• Turn out the dough onto a lightly floured surface and pat into a large round. Scatter the raisins and mixed peel over the dough, fold it in half and half again, then knead the dough to incorporate the fruit.
• Cover with a damp linen- type kitchen towel and let rise for 30 to 45 minutes until almost doubled in size. Preheat the oven to 400 degrees F
• To make the bunny ears, use kitchen scissors to make 2 long cuts at one end of each ball. You need to hold the scissors fairly flat against the top of the rolls, scissor points facing toward the end of the dough ball. Make 2 cuts side by side and slightly pull up the cut dough to form ears. Form a tail with a small ball of dough. Bake the buns for 15 minutes.
• Meanwhile, make the glaze by heating the milk and sugar in a small saucepan until the sugar has dissolved. Remove the buns from the oven an reduce the heat to 350 degrees F. Brush the mild and sugar glaze all over the buns and stick 3 currants on each face end to make eyes and nose. Return the buns to the oven and bake for 5 minutes more for the smaller rolls and 7 to 8 minutes for the larger rolls. Transfer to a wire rack and cool.