Neat Eats: Chicken Lettuce Wraps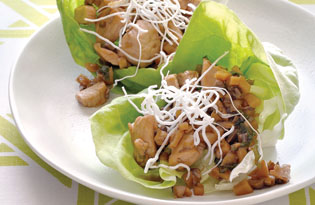 Adults and kids like this healthy lunch and dinner entrée, but lettuce wraps can be pricey at local restaurants. Christy Jordan (SouthernPlate.com), one of the contributors to "Good Bite Weeknight Meals," offers this recipe that she says is every bit as delicious and easy to make. Let the kids help by allowing them to wash the lettuce leaves, measure out the brown sugar, and then spoon the mixture onto the lettuce on each family member's plate!
Chicken Lettuce Wraps
"Good Bite Weeknight Meals" (Wiley, 2011)
Serves 4
INGREDIENTS:
1 cup plus 1 tablespoon vegetable oil, divided
2 ounces rice stick noodles
3 boneless skinless chicken breasts, cut into 1?2-inch pieces
3 scallions, chopped
1 8-ounce can water chestnuts, drained and finely chopped
1 cup finely chopped button mushrooms
3 tablespoons soy sauce
2 tablespoons brown sugar
8 iceberg or Boston lettuce leaves
DIRECTIONS:
Line a plate with paper towels. Heat 1 cup of the oil in a small saucepan over medium heat until very hot. Working in batches, break the rice stick noodles in half and drop them into the pot, cooking a couple of seconds until golden and puffy. Using a slotted spoon, transfer the noodles to the paper towel-lined plate.
Heat the remaining 1 tablespoon of oil in a large skillet over medium heat. Add the chicken and cook, stirring, for 2 minutes. Add the scallions, water chestnuts and mushrooms and cook, stirring, until the chicken is cooked through and no longer pink in the center, about 5 minutes. Remove from the heat.
Finely dice the cooked chicken mixture and return it to the skillet.
Place the soy sauce and brown sugar in a small bowl and stir to combine. Add the sauce to the skillet with the chicken and vegetables and cook, stirring, over medium heat until hot, 2 to 3 minutes. Serve the chicken mixture in the lettuce leaves, topped with the crunchy rice noodles.
?