Near & Far: Knoxville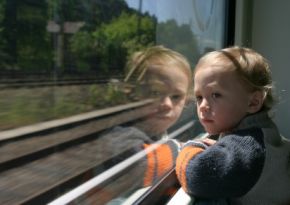 With award-winning restaurants, Southern hospitality and an assortment of activities sure to entertain the entire family, a day in Knoxville will leave you and your family wanting more of this enchanting city!
Start the day out right by enjoying a home-cooked breakfast at Market Square Kitchen, located in quaint Market Square of downtown Knoxville.
Whether you have a hankering for eggs benedict, a stack of buttermilk pancakes or just some old fashioned biscuits 'n' gravy, this restaurant is a great place to get the most important meal of the day.
After breakfast, walk off your meal by taking the family to a fun-filled morning at the Knoxville Zoo! With a vast selection of animals to observe and activities in which to participate, the Knoxville Zoo promises to be an exciting experience for everyone. Hop on the back of a camel and enjoy a ride on the "Ships of the Desert" for only $4 or sit down, relax and experience a spectacular bird show for free. The kids will love the latest attraction, The Clayton Family Kids Cove, where they can slide through a waterfall, build a sandcastle in a giant sandbox or even learn how to milk a cow!
After working up an appetite at the zoo, it's time to head to lunch at Tomato Head, a favorite among Knoxville locals. The atmosphere is decidedly casual, and offers selections for both meat-eaters and vegetarians. A sure-fire win for pizza-lovers, the eatery also serves up calzones, sandwiches, salads, burritos and quesadillas, as well as homemade soups. Whether you decide to dine out on the patio overlooking Market Square or enjoy some of the featured art and photography inside the restaurant, a truly unique atmosphere combined with a reasonably-priced and delicious menu make Tomato Head the perfect place to enjoy with your family.
After re-fueling with lunch, take the family on an adventure to the East Tennessee Discovery Center, where you can choose from a variety of scientific exhibits and attractions. With 10 different aquariums showcasing exotic saltwater and freshwater species, an exhibit demonstrating various light and visual perceptions and even a space shuttle with interactive panel switches, everyone is sure to learn something new!
Next, make a stop by the Women's Basketball Hall of Fame and take a tour of this one-of-a-kind facility, the nation's only museum dedicated solely to the accomplishments of women's basketball. For only $7.95 per adult and $5.95 per child, you will take an emotional journey covering the history of women's basketball in a 15-minute tribute entitled "Hoopful of Hope." For even more family fun, don't forget to bring your tennis shoes to test out your skills on the basketball courts downstairs.
After working up an appetite on the courts, end the day on a happy note by treating the family to a dinner at Calhoun's on the River. The first Calhoun's opened in 1983 as a tribute to the agricultural roots and great barbeque traditions of Eastern Tennessee, and won the title of "Best Ribs in America" at the prestigious National Rib Cook-Off the very next year. From the savory fried-green tomatoes and barbequed pork sandwich to the Southern-fried catfish and specialty ribs, your family will leave Calhoun's with satisfied stomachs all around.
For the adults, Calhoun's even brews their own beer, handcrafted with the finest hops and cultured yeasts to deliver premium quality taste. After dinner, take the walkway down to the bank of the Tennessee River, perfect for walking off the hearty portions you just ate and ending a fun-filled day with the family!
Knoxville is the ideal location to find quality family entertainment, dine at unique eateries with Southern flare and make memories that will last your family a lifetime!
Knoxville, Tennessee
Located about 250 miles from Charlotte via I-77 and I-40.
For more info:
Knoxville Tourism & Sports Corp.
Market Square Kitchen
Knoxville Zoo
Tomato Head East Tennessee Discovery Center
Women's Basketball Hall of Fame
Calhoun's on the River
Sarah Malak is a freelance writer from Knoxville, Tenn.