Near & Far: Anna Maria Island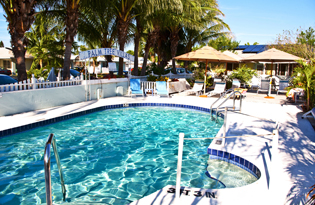 A short flight from Charlotte is the Gulf of Mexico and pristine Florida beaches. I'm delighted to have discovered Anna Maria Island – a gem of a getaway that boasts crystal-blue water, sugar-white sand and spectacular pink-and-orange sunsets. The 9-mile-long island stretches between Tampa and Sarasota, Fla.
Offering an array of island experiences at budget-friendly prices, Anna Maria Island is both family-friendly casual and culturally eclectic. Absent of high-rise condos, accommodations include cottages, villas and charming bed-and-breakfast inns. There's fine (and funky!) dining and shopping, and, of course, exciting marine adventures.
It's an easy four-day escape, or weeklong summer vacation destination, where parents and children can play and relax on the beach for hours and then watch the sun set over the ocean (remember, it's the west coast of Florida!) … and Mom doesn't have to rotate her chair.
A Peaceful Paradise
As a guest of the Bradenton Area Convention & Visitors Bureau, I'm excited to explore all the island has to offer. I set out to report from both a mom's perspective (what's great for kids) and a wife's perspective (what's romantic and soothing).
Once on the island, the free Anna Maria Island Trolley is a great way to get around. Or, rent bikes from Beach Bums and pedal between the boutiques and fishing piers, easily accessing the beach on every block. The entire shoreline is public, and this island, that exudes Old Florida charm, has kept over-the-top commercialism at bay.
Palm Tree Villas, just a block off the beach, is the perfect place for an island home away from home. The owners personally greet their guests and make sure families have everything they need – from beach chairs, toys and an umbrella, to a wagon to haul everything onto the sand! Palm Tree Villas has been recognized in Life magazine and Frommer's travel guides.
Each unit features pillowtop mattresses, a fully stocked kitchenette, TV/VCR/DVD, free Wi-Fi and a semi-private patio. Guests also have use of outdoor gas grills and laundry machines, and families are free to browse the library of games and DVDs. The intimate group of eight units is a great spot for family reunions.
Spotlessly clean and boasting lush foliage and flowering trees, Palm Tree Villas also is a designated Green Lodging Establishment, with xeroscaping, solar-heated water, recycling bins in every unit and compact fluorescent lighting.
Before putting toes in the sand, an appointment at Acqua Aveda is the solution to leaving stress behind. Refresh and renew with a facial, massage, full-body treatment or just a Caribbean Therapy mani-pedi. A delicious fruit-and-cheese tray is a wonderful shared snack for couples or mom-and-daughter appointments. Just an hour or two at this salon, eases tension and let's that island frame of mind soak in.
Seafood and Surf
Eating on the island is a blend of delectable cuisine and scenic venues. For breakfast, a visit to Gulf Drive Café wakes up the palate. Dine surfside and watch beachcombers, while delving into a delicious and healthful fruit-and- yogurt parfait. The full menu also features everything from eggs and pancakes to Belgian waffles and home-baked muffins.
A popular inland spot is Ginny & Jane E's. At this cozy and colorful bakery-café, browse among the antiques, art, books and whimsical trinkets to find gifts to bring back home. Sip a fruity smoothie and indulge in their Crème Brule Trench toast or savory quiche.
Even funkier is Mr. Bones BBQ. This fun favorite serves an eclectic mix of barbecue ribs and chicken; Indian, Mexican and vegetarian foods; and burgers, sandwiches and salads. The New Orleans-inspired décor and help-yourself beverage station (it's a real coffin) delights young and old alike.
Back on the beach, dine with feet in the sand and eyes on the horizon for dolphins at the Beachhouse Restaurant. Antsy kids can play in the sand just a few feet away while parents sip tropical drinks and look over the menu of fresh seafood. Enjoy a plate of stone crab claws and don't miss a slice of heavenly key lime pie. (Fun fact: Stone crabs are native to the Gulf of Mexico, and fishermen harvest only one large claw from each crab. Captured crabs are then returned to the sea to regenerate their missing claw.)
Not to be missed is Beach Bistro, if a babysitter or Grandma can watch the kids. This beachfront restaurant is open for dinner only and boasts the highest ZAGAT rating for food and service in the state of Florida and has been lauded by the guide as offering dishes "as good as any in New York or Paris." Enjoy cocktails and a romantic meal inside, or on the beach as the sun sets.
On an upper level overlooking historic Bridge Street, The Sun House Restaurant invites diners to participate in a gong ceremony at sunset every night, while everyone sings "You Are My Sunshine." Specialty drinks by Chris and food as beautiful as it is delicious make an evening at The Sun House one to remember.
Inland Adventure
Explore the island by renting bikes at Beach Bums. The quiet, residential roads are great for before-dinner family rides and pedaling up a short boardwalk to sneak a peek at a sunset wedding. At Beach Bums, families also can find three-wheel electric scooters (Go Pets), as well as kayaks, small sailboats and more. For nature enthusiasts, a marine biologist hosts tow-hour kayak eco-tours, offering glimpses of island wildlife among the mangrove swamps, sea grasses and sand reefs.
Not all the fun takes place on the coast. Venture a few miles inland to Bradenton, and discover unique opportunities for education in marine life, fun atop horses that swim and discussions with local artists.
At the South Florida Museum, get up close to Snooty, the oldest manatee living happily in captivity. This herbivore (Snooty only eats restaurant-quality greens) is 62 years old and loves to roll and show off for kids. He's 9-feet long and weighs 1,215 pounds. A visit to the museum is free for Charlotte-area residents who are members of Discovery Place. The museum also has a state-of-the-art planetarium, as well as many dioramas and ancient artifacts.
Ever try horseback surfing? At Palma Sola Bay, this once-in-a-lifetime marine adventure is lots of fun. Beach Horses/Great World Nature Tours leads a small group of four or five riders on a leisurely walk bareback about a mile along the beach. Then, riders hold on tight as the horses swim in the water. Kids and parents who are brave enough (and under the weight limit) try balancing atop some of the horses, and get a thrill while clinging to the horses' tails and "surfing" behind them. Give the kids an amazing experience for show-and-tell, and snap photos family and friends at home won't believe. Reservations are taken online and get sold out very quickly April-October.
Tour the galleries in Bradenton's Village of the Arts and say hello to friendly Gordon Turner (the unofficial village tour guide and man-in-the-know) at Baobab Tree Gallery & Studio. This vibrant community of some 35 artists live and work together off 12th Street in a neighborhood revitalization project. Colorful bungalows transformed into galleries feature affordable fine and folk art, jewelry, ceramics and collectibles. Snoop in the bookstore, and grab coffee and a sweet treat in one of the gourmet cafes.
After a full afternoon, relax on the patio at Mattison's Riverside at Twin Dolphin Marina on the Manatee River. Taste the fresh grouper and other seafood specialties, or land-lover cuts of beef or lamb. There are also wonderful choices at award-winning sushi bar. Guests enjoy live music and dancing under the stars nightly.
A getaway to Anna Maria Island affords families the fun of kid-friendly adventures and time together, as well as the luxury of adult-only romantic moments … even if Mom and Dad sneak just 15 minutes on the beach at sunset to blissfully bless the end of a perfect day.