NC Outward Bound Unity Project Helps Bridge Diversity Gaps
Students bring back lessons from wilderness experience to use in day-to-day interactions.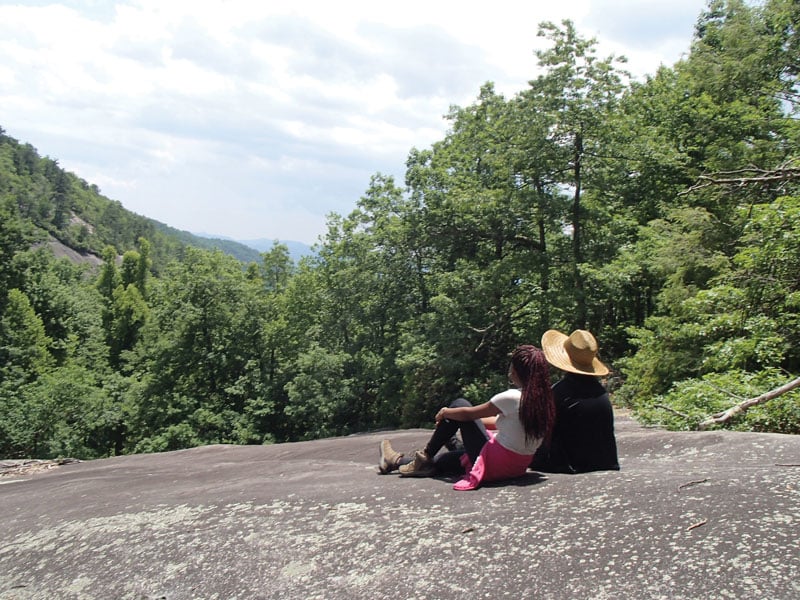 North Carolina Outward Bound School celebrates its 50th anniversary this year. Each summer, 45-60 Charlotte-Mecklenburg high school students are awarded scholarships to embark on a weeklong Outward Bound wilderness excursion, each hailing from different racial, social and socioeconomic backgrounds. During the day, students trek through Pisgah National Forest in North Carolina, tackling personal and team challenges, including rock climbing, ropes courses and long hikes with heavy backpacks.
In the evening they meet around a campfire and embark on a different type of challenge. Led by an instructor, the group engages in conversations about racial issues, sexual orientation, bullying and other topics that teenagers rarely broach with friends, let alone dozens of peers who they barely know or interact with on a daily basis.
The students are part of the NC Outward Bound School's Charlotte Unity Project. Conceived more than 20 years ago by NC Outward Bound instructor Dave Genova, the program brings students from different walks of life together who depend on each other to successfully survive challenges in the wilderness away from their usual day-to-day lives.
---
Connecting Through Challenge
North Carolina Outward Bound School partners with five Charlotte-Mecklenburg Schools to select students for the Charlotte Unity Project. Unity Club advisors work with an NC Outward Bound School staffer to identify 12 students from each school. The students, typically in their junior year, are selected to represent diversity in their community and are awarded a full scholarship for a weeklong Outward Bound course.
Time spent outdoors, away from home and disconnected from their electronic devices, forces teens to function outside their comfort zones. Instructor-led courses are designed to tap into students' common humanity, develop their courage and compassion as leaders, establish a democratic forum to discuss challenging issues, and create a model community within their crew.
---
Bringing the Lessons Home
After returning from a week of wilderness survival, NC Outward Bound School's Charlotte Unity Project participants take what they learn and put it into play through a Unity Club at school. Led by a school teacher or administrator, students organize and implement projects that address issues that affect their community and school.
Helen McGinnis, a junior at South Mecklenburg High School, went on an Outward Bound course in the summer of 2016, and now participates in the school's Unity Club.
"Since returning from the trip I have noticed that I am more confident. I walk with my shoulders back and I smile a lot more. The sense of confidence lets me talk to different groups of people who I would have never talked to before," she says. Her experience shifted her perspective.
"I began seeing people differently with an open mind. I felt like I was the same as every other person on the trip with me. I also felt like I was a part of team. That mindset made me do things differently because I was no longer working for myself. I was working towards a common goal and I had people depending on me," Helen says.
She says she no longer judges people based on how they look.
"Once you are able to get past that, then you can see someone as who they really are, which is someone who struggles with things just like you," Helen says.
---
​Growing Leaders
Rafayel Mahomes, who was elected president of the South Mecklenburg North Carolina Outward Bound Unity Club, experienced many ups and downs on his Outward Bound wilderness course.
"Base camp taught me how to be a better leader and how to be more trusting of others," he says. "I have definitely stepped up as a leader and even as a role model. It has made me feel that anything is possible and that if I put my mind to it, I can achieve anything."
---
Rafayel has joined more school and community groups to share his voice and perspective, including the local NAACP, serving as a cameraman on South Mecklenburg High School's TV station, and as a member of the high school rugby team.
"South Meck is a very diverse school. We have students with all types of backgrounds including students who have unfortunate situations," he says. "I have come across people who have opened up to me in regards to their household issues, boyfriend-girlfriend problems and even some deeper issues."
When asked how Charlotte Unity Project enabled him to handle such situations, he says, "I know how to humble myself … to be that ear to listen because I was taught on my Outward Bound course that every story is unique. Everyone is unique and you shouldn't judge a book by its cover because you never know what one is going through."
Jay Ahuja lives in Charlotte with his wife and their two dogs, and works for Davidson WDAV 89.9FM. He authored two sports-travel guidebooks and he's served on North Carolina Outward Bound School's Charlotte Advisory Board since 2009.
---
To learn more about North Carolina Outward Bound School, Charlotte Unity Project and the local schools involved and to view a short video featuring Charlotte students, visit ncobs.org/programs/charlotte-unity.