National Backyard Camping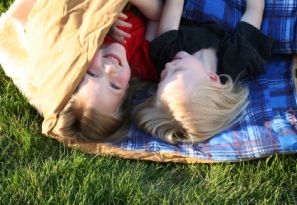 Grab your flashlight, your best ghost story and a tent and join thousands of others for the fourth annual Great American Backyard Campout this June 28th. With nearly 17,000 friends, neighbors and families participating, this year's event is destined to be the best night of the summer.
Organized by the National Wildlife Federation (NWF), the Backyard Campout is more than just a designated night outdoors. Campers can register their site, find a nearby site and make detailed plans by visiting the NWF website, www.nwf.org. You can also design and order special tees for that special night.
Remember that campfire favorite "Alice the Camel"? The Backyard Campout has a list of songs to sing along with. If you have a favorite to share, there's a place to upload your song and share it with other backyard campers. In fact, NWF encourages participants to record their best noises, photos and stories as well.
Along with safety tips, games, crafts, activities and recipes, there's plenty of information available to make your backyard campout a huge success. Record or write down all the nature and wildlife sightings during your campout and share those as well.
Sites should be limited to no more than 15 people.