NAPPA Top Toys for 2009: Software, Video Games and Web Sites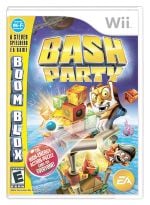 NAPPA Top Toys for 2009: Software, Video Games and Web Sites
For the third straight year, our kid testers played through an avalanche of fun and games. They were thrilled at the sheer number of new titles for the Nintendo Wii — active play is a big preference. We noticed an explosion this year in the diversity of online game and community sites for kids, and there's a much wider variety of sophisticated, engaging Web sites that appeal to different interests and skill levels.
For Preschoolers & Up
Curious George's Dictionary, Houghton Mifflin and ScrollMotion, 2009; $9.99; www.scrollmotion.com; ages 3-5. Requires: iPhone or iPod Touch. Young kids learn letters and begin to recognize everyday words with illustrations featuring story characters Curious George and the Man with the Yellow Hat. A great little resource to stimulate young minds when they insist on playing with Mom's or Dad's iPhone/iPod Touch.
Splatster, Fisher-Price, 2009; $54.99; www.fisher-price.com; ages 3-5. Splatster enables artistic fun on the TV screen, inviting kids to exercise creativity with a wireless "paint brush" controller and stencils, faces and spin art, as well as arcade-style games. Creations can be printed from home computers. Kid testers loved this one.
For Early Elementary Students
Tikatok™, Tikatok, 2007; around $20 for printed books, $2.99 for eBooks, free for online creativity; www.tikatok.com; ages 6-8. Requires: Web browser and Flash. Kids write, illustrate and publish their own books. Digital tools guide them through the process, and kids can share their books online with other Tikatok members or order printed hard- or soft-cover editions. A terrific way to inspire and motivate kids to write.
For Tweens & Up
Active Life™: Extreme Challenge, NAMCO BANDAI Games America, 2009; $59.99; www.namcobandaigames.com; ages 9 to 11. Requires: Wii console. Like Dance Dance Revolution, Extreme Challenge promotes vigorous activity using the Wii, including running, jumping and climbing through such sports as wakeboarding, rock climbing, base jumping and jump roping. Our kid testers had a blast.
Boom Blox Bash Party, Electronic Arts, 2009; $39.99; http://boomblox.ea.com; ages 9 and older. Requires: Wii console. The second version of the wildly successful Boom Blox game for Wii, developed by Steven Spielberg. With more than 400 new levels, players pick up and toss cute and cuddly characters to knock down even more blox structures. Hours of party fun!
Dizzywood, Rocket Paper Scissors, 2007; free with optional monthly subscription $4.95-$9.95; www.dizzywood.com; ages 10-12. Requires: Web browser and Flash. A virtual online community with a thoughtfully designed world that enables kids to build confidence and express themselves in a healthy, positive way. Mini-games encourage reading and vocabulary development, and online events inspire kids around civics and environmental topics.
SmartyCard, Gazillion Inc., 2009; $6.95/month to $39.95/six months; www.smartycard.com; ages 7-11. Requires: Web browser and Flash. A terrific supplemental learning site where kids complete games and activities, earning points that can be redeemed for rewards. Activities are designed by education experts to support reading, math, science and social studies learning. Parents can track their child's progress and achievement online.
For Tweens & Teens
Guitar Hero On Tour: Modern Hits, Activision, 2009; $49.99; www.activision.com; ages 12-14. Requires: Nintendo DS and DS cartridge attachment with special keys (Guitar Grip). This little gem recreates the fun of the popular console game on Nintendo's handheld. Players master fan requests with popular tracks, such as "Dimension," "Violet Hill" and "Unconditional," plus 25 others. A kid tester favorite!
Spore™ Galactic Adventure, Maxis/Electronic Arts, 2009; $29.99; www.spore.com; ages 12-14. Requires: Web browser and valid EA Spore account. Expands the Spore universe, in which players create and evolve their own creatures, and lets players beam down to exciting new worlds. Players can create their own customized game experiences in the "Adventure Creator," with almost limitless characters, settings, music and sound effects.
Family Resources
Science Buddies, Science Buddies, 2001; free; www.sciencebuddies.org; ages 5-18. Requires: Web browser and Flash. Designed to complement classroom instruction, this site inspires students to explore and try experiments in astronomy, biotechnology, music, physics, energy and power, environmental engineering, and other areas. The science fair "Topic Selection Wizard" asks students to share information about their interests and strengths before offering a slate of possible project ideas.
Zoodles, Inquisitive Minds Inc., 2009; free (premium memberships start at $7.95/month); www.zoodles.com; ages 2-8. A child-friendly browser with educational content and controls that let parents set and monitor their children's online experiences. Also includes a virtual toy box with online games, as well as content from sites recommended by schools, including FunBrain.