NAPPA Top Toys for 2009: For Preschoolers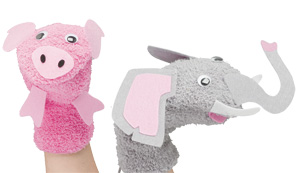 NAPPA Top Toys for 2009: For Preschoolers
For virtually every category and age group, toy companies have used their ingenuity to make good toys even better. This year's winners reflect an evolution from traditional playthings to impressive, exciting tools for broadening knowledge, honing high-tech skills and experiencing both challenge and delight. We proudly present the toy manufacturers' freshest and most inventive work.
Adorable Kinders Rag Doll Alise, Granza Inc., $59.99; www.adorablekinders.com; ages 3 and up. Cuddly rag dolls come with a key-code to access online fun and games that follow school standards. Lessons are introduced by grade level, from kindergarten to 12th grade.
Dolphin Explorer Boat and Dino Adventure Rig, Sprig Toys, $29.99 each; www.sprigtoys.com; ages 3 and up. Simple designs and faceless characters put imagination back into play with these two charming adventure playsets. Both prehistoric and aquatic sets are constructed from Sprigwood — an eco-friendly material composed of recycled plastics and reclaimed sawdust.
Kidizoom Digital Camera Plus, VTech Electronics, $59.99; www.vtechkids.com; ages 3 and up. Budding photographers can take up to 2,000 pictures and 10 minutes of video, then embellish them with stamps, frames, distortion effects, voice messages and animation. View images on the camera's LCD screen, or a computer or TV screen.
Make Your Own Animal Puppets, Creativity for Kids, $17.99; www.creativityforkids.com; ages 3 and up. Adorn these three chenille-soft socks with self-sticking felt shapes, wiggly eyes and fuzzy fur. Fun accessories and animal body parts, such as ears and snouts, adhere extraordinarily well during the puppet show that's sure to follow!
Rainbow River Stones, Wee Blossom, $151; www.weeblossom.com; ages 3 and up. These step-on molded plastic stone shapes have nonskid patterns that add texture and grip. Stones can be placed individually or stacked, so that stepping from one to the next is even more challenging.
"It's fun to pretend there are sharks and alligators and yucky seaweed in the river, and we have to jump across without falling in and getting eaten. But if you do fall in, you have to eat the seaweed!"
– Child Tester, a 6-year-old boy