NAPPA Top Toys for 2009: For Infants & Toddlers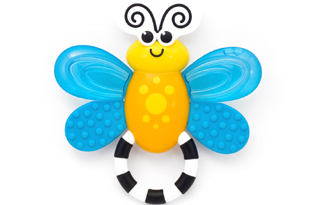 NAPPA Top Toys for 2009: For Infants & Toddlers
For virtually every category and age group, toy companies have used their ingenuity to make good toys even better. This year's winners reflect an evolution from traditional playthings to impressive, exciting tools for broadening knowledge, honing high-tech skills and experiencing both challenge and delight. We proudly present the toy manufacturers' freshest and most inventive work.
Baby Einstein: Animal Exploration Tunnel, The Baby Einstein Company, $39.95; www.BabyEinstein.com; ages 6 months and up. Children and adults can crawl through this mesh-sided play tunnel, decorated with photos of real jungle animals and cartoon counterparts. The 4-foot, see-through hideaway has a padded mat and overhead rings for hanging toys.
Elmo Tickle Hands, Fisher-Price, $30; www.ticklehands.com; ages 18 months and up. Elmo's contagious laughter accompanies the vibrating tickle of furry red paws. When children don Elmoesque hands to tickle others, they feel vibration themselves. One glove has the electronic tickle component; the other is purely kid-charged.
Flutterby Teether, Sassy Inc., $3.99; www.sassybaby.com; ages 3 months and up. Bold buggy eyes and curled antennae capture baby's attention, while the Flutterby's water-filled wings soothe teething discomfort. A second set of rubber-nubbed wings further stimulates baby's mouth and encourages grasping.
If the Shape Fits eebee, Every Baby Co., $32; www.eebee.com; infants and up. This plush pal engages little ones with simple childlike charm. It comes with four cushy, colorful shapes that can be stacked, tossed or attached to baby's arms and legs to increase interaction, exploration and discovery.