NAPPA Top Toys for 2009: For Ages 7 & Up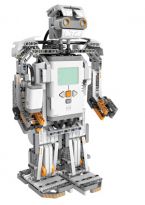 NAPPA Top Toys for 2009: For Ages 7 & Up
For virtually every category and age group, toy companies have used their ingenuity to make good toys even better. This year's winners reflect an evolution from traditional playthings to impressive, exciting tools for broadening knowledge, honing high-tech skills and experiencing both challenge and delight. We proudly present the toy manufacturers' freshest and most inventive work.
LEGO Mindstorms NXT 2.0, LEGO Systems Inc., $279.99; www.LEGO.com; ages 10 and up. Mindstorms enables kids to build and program their own robots, using a PC or Mac computer. Use a USB cable or Bluetooth technology to transfer the programs to the robot and control it remotely with a cell phone or PDA!
Ridemakerz, Ridemakerz, $10 and up for cars, $2 and up for accessories; www.ridemakerz.com; ages 8 and up. Kids create customized cars by choosing a body style and then picking out wheels, rims, spoilers, running boards and sound chips to trick out their ride. Free-wheel or remote-control options are available.
The Shred Sled, Skyking Worldwide, $119.99; www.theshredsled.com; ages 8 and up. This new-generation skateboard gives a faster-paced, smoother ride on four inline casters. The unique dual platform is more responsive to movement and constantly tests the rider's agility.
"This is the coolest; it turns really easily! One of my kids is definitely getting one for Christmas — just so I can ride it!"
— Adult Tester, a father of three