NAPPA Top Toys for 2009: For Ages 5 & Up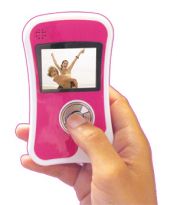 NAPPA Top Toys for 2009: For Ages 5 & Up
For virtually every category and age group, toy companies have used their ingenuity to make good toys even better. This year's winners reflect an evolution from traditional playthings to impressive, exciting tools for broadening knowledge, honing high-tech skills and experiencing both challenge and delight. We proudly present the toy manufacturers' freshest and most inventive work.
Digital Blue SNAP Video Camera, Digital Blue, $79.99; www.digiblue.com; ages 5 and up. This video camera captures up to 30 minutes of viewing pleasure with one simple button. The 2-inch LCD screen is crystal clear, and the video is a high-resolution stunner that easily can be uploaded to Facebook or YouTube.
Razor® Rip Rider™ 360, Razor USA, LLC; $129.99; www.razor.com; ages 5 and up. Like the familiar "Big Wheel" bike, the Rip Rider sits low and has a back-support seat, handle bars and pedals. But every ride brings roller-coaster excitement as the Rider's highly responsive casters help kids zip, swirl and make 360-degree turns!
"This ride-on created quite a stir from kids and parents alike. Every child who rode it wanted it, and every adult who watched needed to know where to get it and wished they were small enough to take a turn! It is hands down one of the best ride-on toys we've seen."
— NAPPA Judge
Swinxs, Swinxs BV, $150; www.swinxs.com; ages 4 and up. This screenless game console has 10 preinstalled games, with more free downloads. The get-up-and-keep-moving games range from timed relay races to charades. The unit gives verbal directions and identifies players by scanning their colored wristbands.