NAPPA Top Toys for 2008 – Preschoolers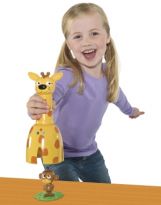 Animal Scramble, Wild Planet, $19.99-$29.99; www.wildplanet.com; ages 3 and up. This lively toy uses different animals as targets to be tagged. Kids listen to instructions from an electronic, hand-held, giraffe-shaped tagger, which tells them which animals to run to and tag. For more advanced play, the giraffe asks, "Who has stripes?" or "Who roars?"
Curious Bonz Band, Curious Toys, $26; www.curioustoys.com; ages 3 and up. Children combine construction with music as they build their own goofy band creatures with shaker claws, clicking arms and rattling body. The included CD provides the beat.
Disney Pix Jr. – Mickey Mouse Clubhouse, Digital Blue, $49.99; www.digiblue.com; ages 3 and up. The rubberized shell of this camera withstands rough handling, while the simple design and buttons make it easy to use (batteries sold separately). The memory holds approximately 150 pictures and an automatic flash yields impressive picture quality. A special Magic Wand button allows kids to place a Disney character on the screen along with the subject. The Windows software installs effortlessly.

Ezyroller, Ezyroller LLC, $99-$119; www.ezyroller.com; ages 3 and up. Children sit low to the ground in the sling seat and propel forward by alternating leg extensions on the push bar of this unique ride-on toy. A simple brake lever makes it easy to stop. The movement is snake-like.
KidKraft Pink Retro Kitchen & Refrigerator, KidKraft, $270; www.kidkraft.com; ages 3 and up. This toy kitchen could be made by a kitchen design firm! It is well-constructed, using durable wood and metal. Plastic accents and a metal faucet make it look like the real thing.
ZinkoTek, ZinkoTek, $350; www.zinkotek.com; ages 3 and up. Made of recyclable EVA foam material, this oversized building set inspires children to stretch their imaginations indoors and out. Kids connect multishaped pieces to create tabletop structures or life-size playhouses, rockets, lemonade stands and puppet theaters. Best of all, the complexity of these sturdy structures can increase as kids grow.