N.C.'s Largest Multisport Festival Comes to Charlotte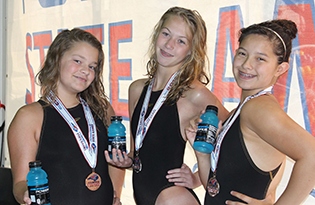 Nothing says summer like outdoor sports.
How about 20 different sports played by 14,000 stellar athletes all across the Charlotte region? Hosted by North Carolina Amateur Sports, the 28th edition of the Powerade State Games brings all that and more to the Queen City this month.
High School baseball, soccer, softball and lacrosse will pit the marquee players against each other, all hoping for a chance to be noticed by attending college and professional scouts, and in some cases, to win a gold, silver or bronze medals. The baseball event is the premier event and draws more spectators and scouts than any other. Each year 32 high school coaches volunteer their time to hold tryouts in their regions and then select the 20 best players. The Baseball Showcase will take place June 18-22 at UNC Charlotte, BB&T Ballpark and Hopewell High School.
Rugby and inline hockey are two of the new sports added this year to the list that also includes bmx, golf, gymnastics, fencing, karate, swimming, track & field and wrestling. Games begin May 31 and run through June 29.
Kids may particularly enjoy Opening Ceremonies held on June 20 at the Charlotte Motor Speedway in Concord. It's an Olympic Day Celebration featuring the parade of athletes and lighting of the ceremonial cauldron.
The Powerade Fanfest will have interactive sports-themed inflatables, games, simulators, music and mascots. Try a 3-lap racecar ride-along with the Richard Petty Driving Experience at special discounted prices. With speeds of up to 165 mph, this is as close to racing as you can get.
For more information about the Powerade State Games, visit pag.ncsports.org.
Read More: 


View more Community News