More Gifts Worth Giving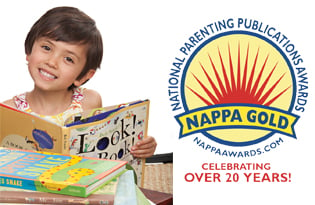 The Year's Best DVDs, Story CDs, Books, Music, Apps, Software, Video Games and More
In Part 2 of our 2011 National Parenting Publications Awards (NAPPA) Gold Winners' coverage, we bring you more of the year's top children's products. Our expert judges and child testers have selected the most engaging DVDs, story CDs, books, magazines, apps, software, video games, websites and more – all to help you find the right gifts for kids and adolescents this holiday season and throughout the year.
DVDs
By Ranny Levy
Infants & Toddlers
Baby Einstein: Neptune's Ocean Discovery Kit
Compelling nature photography and various musical arrangements provide visual and audio stimulation for babies and progressive learning opportunities for toddlers. Amusing puppets introduce segments of lushly filmed marine scenes. The "Discovery Cards" and music CD make this a great buy. The Baby Einstein Co. LLC, 2011; 28 min.; $19.99; www.babyeinstein.com; ages 0 to 3.
Toddler Favorites – The Movie
Kids have a blast singing classic children's songs under the kind tutelage of Teapot as he coaches Teeny Teacup through the words. A creative mix of fabulous colors, graphics and animation transform live-action singing sessions into dazzling musical adventures. Independent Production – Music for Little People, 2011; 35 min.; $9.99; www.mflpdistribution.com; ages 1 to 5.
Preschoolers
The Cat in The Hat Knows a Lot About That!
Adapted from the Dr. Seuss book series, the Cat leads Sally and Nick on three winter adventures about the arctic, penguins and reindeers. Parents will love the mischief-making Cat in his new role as scientist, setting kids on track for knowledge and discovery. NCircleEntertainment, 2011; 45 min.; $19.99; www.ncircleentertainment.com; ages 2 to 5.
Chuggington: Let's Ride the Rails
No wonder preschoolers relate to the colorful, personable Chuggington engines. Exuding presence and personality, the Chug "trainees" are like young children ­– little people in training with parents, or older and wiser Chuggers, who provide guidance and encouragement. Anchor Bay Entertainment, 2011; 62 min.; $16.98; Anchorbayentertainment.com; ages 2 to 5.
Dance, Pocoyo, Dance!
Minimalist graphics – characters in solid bright colors dancing with gusto against a white backdrop – and simple story lines are perfect for the youngest viewers. Kids will learn a bit about dance, music and, best of all, the value of cooperation. NCircleEntertainment, 2011; 20 min.; $12.99; www.ncircleentertainment.com; ages 2 to 5.
Debbie and Friends Story Songs & Sing Alongs
Originally conceived and exceptionally creative, these inspiring music videos develop pro-social and cognitive skills while engaging kids to be involved and have fun! Debbie and Friends know how to introduce classic stories with their own brand of interpretation. Independent Production – Debbie and Friends, 2011; 50 min.; $14.98; www.Debbieandfriends.net; ages 2 to 5.
Sid the Science Kid: Going, Going, Green!
Sid likes to think, and his enthusiasm gets his young animated pals, live-action friends and your preschooler to like thinking, too. Through colorful, true-to-life animated characters, viewers learn the fundamentals of good environmental practices and the need for them. NCircleEntertainment, 2011; 115 min.; $12.99; www.ncircleentertainment.com; ages 2 to 5.?
WordWorld: The Train Escapade
There is no better place to learn to read than WordWorld, where characters are formed around words and personified letters puzzle together to make a word that solves a problem. Snappy songs and rich colors hold kids' attention like glue. NCircleEntertainment, 2011; 60 min.; $12.99; www.ncircleentertainment.com; ages 2 to 5.?
Big Kids
Melody Street Show Online Webisodes
Who better to introduce children to the world of music than 8-year-old musical prodigy Ethan Bortnick? This interactive multiplatform package offers several music adventures in different formats, with eye-popping graphics and instrument characters. Kids look, listen and learn. Independent Production – Melody Street LLC, 2010; 3 to 5 min. per webisode; free; www.melodystreet.com; ages 4 to 7.
Spanish for Kids: Las Estaciones
Youngsters love learning new words and sounds, and with animated Fritzi the Mouse guiding them through lively visual cues, they can begin to learn Spanish through the proven immersion method. Live-action kid scenes filmed in each season keep interest high. Independent Production – Whistlefritz LLC, 2011; 30 min.; $19.99; www.whistlefritz.com; ages 4 to 7.
Families of the Philippines
Life in the Philippines is very different from ours – from bamboo homes and tricycle taxis, to cooking on wood fires and sleeping on the floor. Exceptionally bright, clear frames take viewers there, and narration adds plenty of factual content. Independent Production – Master Communications, 2011; 30 min.; $29.95; www.master-comm.com; ages 5 to 8.
Slap Back Jack
Sometimes whimsical fun wins the day! This amusing claymation short is about a baseball player who hits the ball out of the park. He suffers humiliation because his high-fives don't connect with other players. Slap Back Jack gets him on track with his high-fivin' contraption. Independent Production – MRN Media Inc., 2010; 12 min.; $5; www.slapbackjack.com; ages 5 to 8.
Young Artists Collection Featuring Zin! Zin! Zin! A Violin
The Storybook Treasures series bridges video allure and the joy of reading. This installment exposes young artists, musicians and performers to multiple artistic media, instruments and performance. An optional read-along feature encourages reading skills. New Video, 2011; 2 hrs., 47 min.; $24.95; http://www.newkideo.com; ages 5 to 8.
Storytelling & Spoken Word
By Marilyn McPhie
Once Upon a Bethlehem Night: Christmas Stories told by Renee Englot
Take a new look at the Christmas story. The small shepherd, camel, flower, spider, star, innkeeper's daughter and others tell what happened that Bethlehem night. Englot's voice is perfect, and the music enhances the mood. This is a treasure for those who celebrate Christmas. Renee Englot, 2011; $15; www.reneeenglot.com; ages 4 and up.
Rapunzel and the Seven Dwarfs
Rapunzel and the seven dwarfs are "explained" by storyteller Willy Claflin in this over-the-top "hilarified" Mother Moose mashup makeover. The beautifully illustrated accompanying book includes "hoof-notes" to refer to the specialized moose vocabulary. Go ahead and try to listen without laughing. August House, 2011; $18.95; www.augusthouse.com; ages 8 and up.
Books & Magazines
By Helen Foster James, Ed.D., and Rubin Pfeffer
Infants-Age 2
Baby Einstein First Book of Puppies
You and your child will play slide-and-find peekaboo with adorable illustrations and real photographs of puppies in this sturdy board book. Produced by The Baby Einstein Co. LLC, 2011; $7.99; www.disneybooks.com and www.babyeinstein.com.
Count 1 to 10
This book incorporates the simple concept of counting from 1 to 10, with each consecutive number popping up with the turn of the page. A pop-up book by Kees Moerbeek, Abrams Books for Young Readers, 2011; $15.95; www.abramsyoungreaders.com.
The Splendid Spotted Snake
Brilliantly imagined and durably produced, this snake book truly is splendid. This is a clever story of a newborn snake whose spots change colors as it grows and grows right before the reader's eyes. Written by Betty Ann Schwartz and Alexander Wilensky, Workman Publishing, 2011; $13.95; www.workman.com.
Twinkle, Twinkle, Little Star
Caldecott Medalist Jerry Pinkney's illustrations of this classic rhyme will ease little ones to sleep while the adults in their lives are charmed by every inch of this stunning book. Written and illustrated by Jerry Pinkney, Little, Brown Books for Young Readers, 2011; $16.99; www.lb-kids.com.
Ages 3-5
Bailey
Harry Bliss has an uncanny way of creating a story that will appeal to the youngest child and still delight children of all ages. Here's Bailey, the most enthusiastic student at Champlain Elementary, going through the school day eager to please and achieve. Written by Harry Bliss, Scholastic Press, 2011; $16.99; www.scholastic.com.
Jo MacDonald Saw a Pond
Jo and young readers learn about the wild creatures at a pond in this fun twist on the popular farmer song. Written by Mary Quattlebaum, illustrated by Laura J. Bryant, Dawn Publications, 2011; $16.95 ($8.95 paperback); www.DawnPub.com.
Look! A Book! A Zany Seek-and-Find Adventure
This is a blast. Everything is here – cowboys, pirates, submarines, robots, animals, ice cream, everything. Readers can search on their own or follow prompts to discover the beautifully rendered worlds. Written by Bob Staake, Little, Brown Books for Young Readers, 2011; $16.99; www.lb-kids.com.
Press Here
Press here, shake, brush and make this simple book come alive as it moves dots through their journey. Translated by Christopher Franceschelli, Chronicle Books, 2010; $16.99; www.chroniclekids.com.
Ages 6-8
A Book for Black-Eyed Susan
Ten-year-old Cora loses her mother, and her father must give her newborn sister to Aunt Alma to raise. Together, Cora and her father must continue their journey along the Oregon Trail in this historical-fiction picture book that depicts a family's trials and love. Written by Judy Young, illustrated by Doris Ettlinger, Sleeping Bear Press, 2011; $16.95; www.sleepingbearpress.com.
Me … Jane
Jane loves to be outside with animals while sitting in her favorite tree reading Tarzan books. Simply told, author Patrick McDonnell cleverly presents a glimpse of the young girl who would become Dr. Jane Goodall. Written by Patrick McDonnell, Little, Brown Books for Young Readers, 2011; $15.99; www.lb-kids.com.
Of Thee I Sing: A Letter to My Daughters
This is an exquisite celebration of women and men who've made significant contributions and breakthroughs to our country's social and cultural greatness. Stirring illustrations accompany concise, moving text to make it an inspiration for all children. Written by Barack Obama, illustrated by Loren Long, Random House Children's Books, 2011; $17.99; www.randomhouse.com/kids.
Ages 9-12
Never Forgotten
This moving, unforgettable story is told in rich narrative verse and provocative illustration. It is a heart-rending ode to the families of West Africa whose loved ones were torn away by slave traders and delivered to the harsh fate of slavery in North America. Written by Patricia C. McKissack, illustrated by Leo and Diane Dillon, Random House Children's Books, 2011; $18.99; www.randomhouse.com/kids.
One Day and One Amazing Morning on Orange Street
The children on Orange Street make surprising discoveries about themselves and their street while treasuring a vacant lot's orange tree that has bonded the neighbors for decades. Written by Joanne Rocklin, Abrams Books for Young Readers, 2011; $16.95; www.abramsbooks.com.
Wonderstruck
Two stories, 50 years apart, are told in this "novel with words and pictures." Ben's story is told in words and Rose's in pictures. The style is reminiscent of the author's Caldecott Award-winning book, The Invention of Hugo Cabret. Written by Brian Selznick, Scholastic Press, 2011; $29.99; www.scholastic.com.
Ages 12 and up
The Klutz Guide to the Galaxy
Klutz delivers again – this time with the whole galaxy in your hands. Here's a book that is a kit with remarkably clever tools: a telescope, flashlight, sundial and more, equipping young astronomers to explore the galaxy. Written by Pat Murphy and the Scientists of Klutz Labs, Scholastic Press, 2011; $19.99; www.klutz.com.
Paper Covers Rock
This absorbing novel is set at a boys' boarding school. A student is killed in a tragic accident and the reader and surviving characters are left in a precarious position somewhere between partial and whole truth. Written by Jenny Hubbard, Random House Children's Books, 2011; $16.99; www.randomhouse.com/kids.
The Secret of Rover
Grab your hats – we're off for an intriguing mystery thriller with spies, chases, kidnapping and stowaways. Even the president of the United States becomes involved. This page-turner will have readers intrigued. Written by Rachel Wildavsky, Abrams Books for Young Readers, 2011; $16.95; www.abramsbooks.com.
Magazines
ChickaDEE
Boys and girls in early elementary school – get ready for some fun! This hands-on magazine is packed with comics, puzzles, animals, crafts and jokes. Publisher Owlkids also offers award-winning magazines for other ages. Owlkids; $5.25 an issue; $29.99 for a one-year subscription (10 issues); www.owlkids.com; ages 6 to 9.
Discovery Girls
A wide range of topics, from serious to fun, are presented in this visually appealing magazine. Read about fashion, puzzles, book reviews, practical help for difficult situations, and more. Discovery Girls Inc.; $4.99 an issue; $19.95 for a one-year subscription (six issues); www.DiscoveryGirls.com; for girls ages 8 and up.
Highlights Puzzlemania
You can't go wrong with any of the outstanding Highlights for Children magazines. Find one that best meets the interests and age of your child, such as this publication filled with fun puzzles. Highlights for Children; $5.95 an issue; $2.67 an issue plus postage for subscriptions; www.highlights.com; ages 7 and up.
Music
By Michael Berick and Tor Hyams
Lullabies
Acoustic Dreamland
This hip and fabulous set of nighttime music includes originals and well-chosen cover tunes that are good anytime of day – and for any age as well. Putumayo Kids, 2011; CD, $14.98; www.putumayokids.com; infants to age 5.
Ella Jenkins – A Life of Song
The "First Lady of Children's Music" is back with a healthy dose of classic African-American folk songs. This inspirational collection, including "He's Got the Whole World in His Hands" and "Summertime," infuses deep, soulful joy in the listener. The featured child singers and authentic Ameri
an folk instrumentation make this album a must-have, never-give-away classic. Smithsonian Folkways Recordings, 2011; CD, $15; www.folkways.si.edu; infants and up.
Hullabaloo – Road Trip
A San Diego-based duo delivers an engaging set of traveling tunes that will stop kids from asking, "Are we there yet?" Hullabaloo Music, 2011; CD, $12; www. hullaballoband.com; infants to age 6.
Singin' and Groovin'
Music for Little People has delivered classic children's music for years. This time, there's a twist – it's groovy. Think "Itsy Bitsy Spider" as a gospel tune. Picture "Miss Mary Mack" as groovy funk/blues and "The Wheels on the Bus" as an old-school country jig. This is one eclectic mix of songs that every toddler will love. And the varied acoustic instrumental foundation will hold your attention on the long car ride home. Music for Little People, 2010; CD, $13.98; www.musicforlittlepeople.com; ages 1 to 2.
Chicken Joe Forgets Something Important by Trout Fishing In America
This is a comical tale about a cat named Chicken Joe whose barnyard pals have a fun surprise for him. The Secret Mountain, 2011; storybook and CD, $16.95; www.thesecretmountain.com; ages 4 to 10.
Tom Chapin – Give PEAS A Chance
Tom Chapin has kept the folk music tradition alive through his myriad of recordings over the years. Having worked with such luminaries as the legendary Pete Seeger, Chapin's Give PEAS A Chance is steeped in the traditional folk genre while addressing modern issues such as being green, healthy food and sustainability. Sundance Music, 2011; CD, $15; www.tomchapin.com; ages 3 and up.
The Golden State
California-based "kindie" rock group the Hipwaders pay homage to their home state on this catchy album. Part Beach Boys, part Elvis Costello, The Golden State is all about having fun and residing in that carefree California state of mind. Dreams flourish on this album through songs like "Bubble Machine" and "Summer Day." So, come on in. The water's warm! The Hipwaders, 2011; CD, $11.97; www.hipwaders.net; ages 3 and up.
Grow It At Home
The sagelike Peter Alsop shares his enlightening music, which includes tunes about dragons, St. Patrick, recycling, nutrition, beets and feet. Moose School Productions, 2010; CD, $15; www.peteralsop.com; ages 4 to 12.
Imagination Movers: In a Big Warehouse
Kids will be movin' and groovin' to these highly energetic tunes drawn from the popular Playhouse Disney Channel group's TV series. Walt Disney Records, 2010; CD, $11.98; www.waltdisneyrecords.com; ages 2 to 5.
Love Me For Who I Am – Songs Celebrating Children of All Abilities
Brady Rymer's album celebrates individuality and carefree abandon. Even the title track exclaims, "Please don't try to fix me. Love me for who I am … ," and we do! In "Picky Eater," being selective is applauded. Also celebrated on the album are those who don't want to wear shoes and others with "So Many Ideas." Rymer captures the joy of youth through his Roy Orbison meets Tom Petty rock stylings. Bumblin Bee Records; CD, $9.90; www.bradyrymer.com; ages 4 and up.
My Name Is Handel
George Handel's life and work (particularly his "Water Music") come alive in this informative and interactive disc. Performed by Yadu, Bonnie Ward Simon, Stephen Simon and the London Philharmonic Orchestra, Maestro Classics, 2011; CD, $16.98; www.maestroclassics.com; ages 9 and up.
These Are My Friends – an album for kids and their parents
Alastair Moock's wonderful knack of filling catchy ditties with humorous lyrics will bring a smile to your face. Moockshake Music, 2011; CD, $15; www.moockmusic.com; ages 3 to 8.
Joanie Leeds & The Nightlights: What A Zoo!
From funk and blues to country and pop, with even a little hip-hop thrown in, this album has a style for everyone. The eclectic stylistic mix is sure to keep a child entertained. It's original, catchy and suitable for the age group. The band is high caliber, with kid-hop rapper 23 Skidoo featured on a song, and the raw energy of the songs jumps off the speakers. From the "Big Blue Whale" to "My Butterfly," the album takes you on a journey from a kid's perspective. City Kid Music, 2011; CD, $15; www.citykidmusic.com; ages 2 and up.
Mannheim Steamroller – Christmasville by Chip David
For more than 20 years, Mannheim Steamroller has brought us Christmas joy through music. Just when you thought they had covered it all, "Christmasville" comes along with 13 new recordings that feature yuletide ditties in varying styles, from classical to big band, as well as the touching ballad here and there. Though kid-oriented, the album's high-quality production can be enjoyed by the whole family. American Gramaphone, 2008; CD, $6.90; www.mannheimsteamroller.com; ages 9 and up.
Apps, Software, Video Games, Websites and More
By Allen Rausch
Fooz Kids
Surf safely! This kid-safe Web browser comes with a ton of great games, videos and Web destinations for kids, and includes safe email and video chat functions. Best of all, easy-to-use parental controls give complete control over what's available for your kids. Fuhu; free; www.foozkids.com; ages 2 to 11.
Pat the Bunny
This is an extraordinary digital update version of Dorothy Kunhardt's classic touch-and-feel children's book. The illustrations are now interactive with lovely background music, excellent reading of the text and vocal feedback when the child does something interesting. Random House; $3.99; www.randomhouse.com/kids/apps; ages 2 to 6.
Toca Hair Salon
This delightful "e-toy" app lets kids cut, style and color hair, and experiment with all sorts of wild hairstyles for people and animals. No matter what, though, a touch ensures that the hair will always grow back. It's simple and easy to understand, but provides plenty of stimulating imaginative play. Tocaboca; 99 cents; www.tocaboca.com; ages 2 to 6.
Disney.com/Create
This online art studio has an amazingly powerful set of art tools for kids. They can make pictures, minimovies, cards, stories and more. Design original creations or use pre-made Disney art images. There's also a wonderful community of people who discuss each other's work and help each other become better artists. Disney Interactive Media Group; free; www.disney.com/create; ages 5 to 15.
LeapPad
This is an amazing iPad-style kid's touchscreen computer. It comes with fun apps, including a virtual art studio, digital camera and more. New apps are $10 each, and all are the same high quality. Includes impressive online and parental features, including emails that track kids' educational progress. LeapFrog Enterprises Inc.; $99; www.leapfrog.com/leappad; ages 4 to 12.
MLB 11: The Show
This is state of the art for baseball video games! The controls are great. Lighter modes like home-run derby make the game fun for younger fans and those who aren't baseball junkies, but if you want deep baseball stats, they're there. True baseball fans will love this game. Sony Computer Entertainment America; $59.99; www.us.playstation.com; ages 10 and up.
Meet NAPPA's Judges!
DVDs: Ranny Levy, founder and president of the Coalition for Quality Children's Media, has been an advocate for quality children's media since 1989. KIDS FIRST! reviews and evaluates children's programming, trains kids to become critical media users and produces the KIDS FIRST! Film Festival.
Storytelling & Spoken Word: Marilyn McPhie has been a professional storyteller for more than 20 years. She is a state liaison for the National Storytelling Network and has presented at many national and regional conferences. She writes reviews of storytelling resources and performs regularly for audiences ranging from preschoolers to adults.
Books: Helen Foster James, Ed.D., is a veteran teacher and former coordinator of library media services for the San Diego County Office of Education. She is also a book reviewer and author of the children's books E is for Enchantment: A New Mexico Alphabet and S is for S'mores: A Camping Alphabet. She has also received the International Reading Association's Celebrate Literacy Award.
Rubin Pfeffer has held top executive positions at Harcourt Brace Jovanovich, Pearson Inc. and Simon & Schuster Children's Books. He founded Beach Lane Books and, as a partner with the East West Literary Agency, founded that agency's Boston base.
Music: Tor Hyams has composed scores for film and television and produced top recording artists and live music festivals for children. He wrote and produced A World of Happiness, a NAPPA-winning children's CD, and co-authored a book by the same name. He launched the first KindieFest Family Music Conference in 2009, and his family music label, Happiness Records.
Michael Berick is the calendar editor at L.A. Parent, where he also reviews children's CDs. He has written about children's music for the Los Angeles Times and Entertainment Weekly, and about music, in general, for more than 20 years.
Apps, Software, Video Games, Websites and More: Allen Rausch has worked for such renowned game developers as Acclaim Entertainment, Toys R Us, Interplay Entertainment, UbiSoft, Riot Games and Nexon America. The PC Editor for GameSpy.com for seven years, he has also been a contributing author for games published by White Wolf and Wizards of the Coast, a noted columnist-reviewer, and an editorialist for publications such as PC Gamer, GameSpot and Gamasutra.
?View Part 1 of our 2011 NAPPA Gold Winners' coverage? for the year's best toys and games!